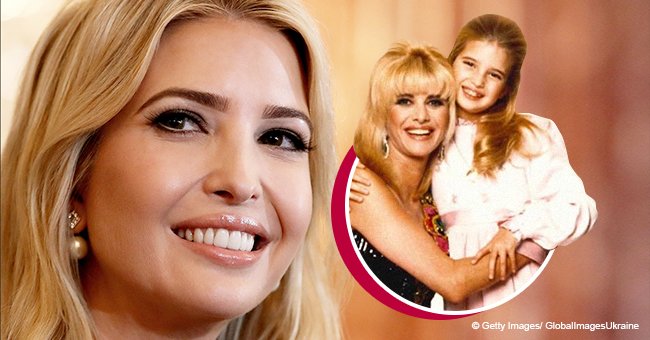 Ivanka Trump shares throwback photo with mom in a touching tribute on her 70th birthday
On Wednesday, President Donald Trump's ex-wife, Ivana Trump, celebrated her birthday. Her daughter, Ivanka Trump, took to Instagram and Twitter to pay tribute to her with a sweet message.
Ivanka posted a throwback photo of herself as a child hugging her mother. She included some of her mother's wise words in the caption of the post.
On her post, Ivanka Trump wrote:
"Mom, you are a source of joy and wonder to all who know you. I love you very much! Happy birthday! (Or in your own words: 'Never older, it just takes longer getting ready every morning!')."
Ivana Trump, a former Czech model and businesswoman turned 70-years-old this week. Her daughter is well-known by her followers for sharing throwback images on social media whenever there's a special event.
For her mother's birthday last year, the first daughter posted a photo of her younger self in a white dress, bowing to Ivana. The caption read: "Happy birthday Mom! Today, I bow to you even deeper, as I better understand just how hard a job it is to be a great mom! You inspire now, as you did then. I love you."
President Donald Trump's ex-wife is also the mother of Donald Trump Jr. and Eric Trump. She married their father in 1977 and they divorced in 1992.
She was born in the country formerly known as Czechoslovakia (currently the Czech Republic). In 1973, Ivana migrated to Canada and in the mid-1970s she moved to New York City.
There she started modeling and around the same time she began dating Donald Sr. As the president's first of three wives, she generally stays out of the spotlight.
Two years ago in October, Ivana told "CBS Sunday Morning's" Jim Axelrod that the president had asked her for advice about using Twitter. She revealed her answer saying, "I said, 'I think you should tweet. It's a new way, a new technology. And if you want to get your words across rightly, without telling the New York Times, which is going to twist every single word of yours, this is how you get your message out."
It appears she might've been the reason for the president tweeting so much.
Please fill in your e-mail so we can share with you our top stories!