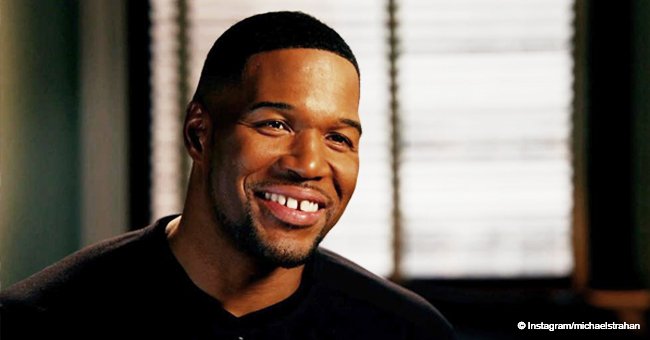 Michael Strahan Shares Rare Picture of His 'Son' Dorian on His 18th Birthday

Michael Strahan, the former NFL player who became a regular contributor on "Good Morning America," took to Instagram to share two photos of his half-son who turned 18.
The image on the left showed Dorian in what seemed to be a lake holding onto a platform and smiling at the camera. The pic on the right had a black-and-white filter, and it showed the young man wearing Nike shoes, pants, and a hoodie while looking up to the sky.
For the caption, Michael wrote: "Happy 18th Birthday, Dorian! Enjoy your day and LIVE IT UP! Love you," followed by a red heart emoji. As soon as he uploaded that post, his followers took to the comment section to wish Dorian a happy birthday.
MICHAEL'S HALF SON
One of the Instagram users wrote that Dorian was not Michael's son, and they were not that wrong. In fact, the 18-year-old man is Wanda Hutchins' son from another marriage. However, Michael has admitted several times that he considers him his child.
"I treat him and take care of him as if he were my son because it's very important to me that Michael Junior and Tanita [the children he had with Wanda] have the confidence of knowing that their mother is fine, their brother is fine, everybody is well taken care of," wrote Michael in his book "Wake Up Happy."
A FAMILY MAN
The former NFL player has proven that he is not shy to show his love for his family in social media. Apart from Dorian, he has four children from two past relationships: Michael Jr. and Tanita (with Wanda) and the twin daughters Sophie and Isabella (with Jean Muggli).
During an interview Michael had with People a few years ago, he admitted that his children gave him strength and that he loved being with them. "To me, it's all about family, now more than anything," added the man.
The man pointed out that people usually assume that the mother of the children is supposed to take care of them when the couple split, "but from day one, it was very important for me to be active, to be a part of their life."
MICHAEL'S "WIG"
Recently, the proud father showed his playful nature on Instagram by sharing an adorable pic featuring his 14-year-old daughter Isabella. In the shot, the teenager lent her curly locks to the "Good Morning America" host, tossing her long mane over his head to create an improvised natural hair wig.
"I wondered how I'd look with hair like [Isabella] so she helped me out. Next time [Sophie] needs to loan me a few curls LOL," wrote the man in the caption, followed by the hashtag "Family Over Everything."
At the moment, Michael is focused on his show "Strahan and Sara," next to former "The View" co-host Sara Haines, which serves as the third hour from "Good Morning America."
Please fill in your e-mail so we can share with you our top stories!