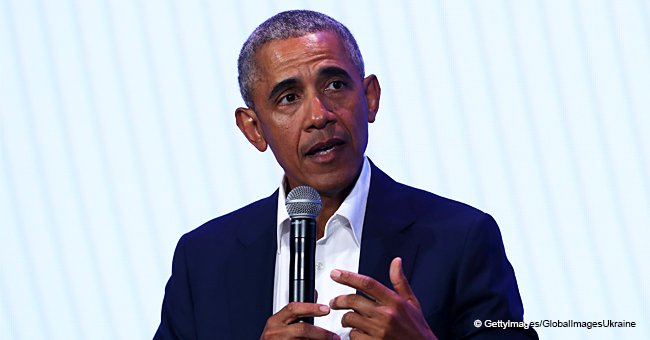 'I'm Michelle's Husband, Barack': Former POTUS Shows What Real Confidence Is in an Epic Speech
Michelle Obama's husband took to the stage in Oakland, Ohio to talk to young men about self-confidence. The former president started off with very empowering words.
When Barack Obama introduced himself as Michelle's husband, he immediately set a unique tone for his speech. The event, prepared for the non-profit organization My Brother's Keeper Alliance, took place on Tuesday, February 19.
There, famous Golden State Warrior basketball player Stephen Curry joined the former president. They spoke about men's role in society and the harmful effects of hip hop culture and certain stereotypes.
Barack used a simple demonstration:
"If you are really confident about your financial situation, you're probably not going to be wearing an 8-pound chain around your neck. If you're very confident about your sexuality, you don't have to have eight women around you twerking."
Using himself as an example, he referenced his wife:
"Cause I've got one woman who I'm very happy with. And she's a strong woman."
With that, the audience gave a round of applause. It seems no one ever gets tired of hearing Barack express adoration for his beloved wife. Just like the time he told her Happy Birthday last year and the year before.
Michelle's fans do it all the time, but it's so heartwarming to see her own husband constantly show his love. Barack went on to address the matter of confidence in males on a deeper level.
He said:
"Racism historically in this society sends a message that you are 'less than.' We feel we have to compensate by exaggerating stereotypical ways men are supposed to act. And that's a trap."
The leadership forum honored the 5th anniversary of the organization which Barack started during his term. Notably, Barack also introduced Curry as Ayesha Curry's husband.
He further encouraged:
"If you're confident about your strength, you don't need to show me by putting somebody else down. Show me by lifting somebody else up."
Barack lifted up other women during the speech as well:
"We tend to rise to the expectations that are set for us. If you say, 'You treat young women with respect. They are not objects. They are humans with the same aspirations and desires, and they are just as worthy of respect as you are,' that has an impact. We've got to set that tone early in life."
He reminded his audience that "being a man is first and foremost being a good human. That means being responsible, working hard, being kind, respectful, compassionate."
Barack further lifted his wife up just last week when he shared a Valentine's Day post paying tribute to Michelle's love for Motown. Of course, Michelle returned the sentiments.
He alluded to her Grammy appearance where she paid tribute to Motown records saying, "it's true; she does get down to Motown."
Back in November 2018, the former POTUS congratulated Michelle on the release of her book "Becoming." In promoting the book, he also described his wife beautifully.
He said:
"Of course, @MichelleObama's my wife, so I'm a little biased here. But she also happens to be brilliant, funny, wise – one of a kind. This book tells her quintessentially American story." I love it because it faithfully reflects the woman I have loved for so long."
Please fill in your e-mail so we can share with you our top stories!