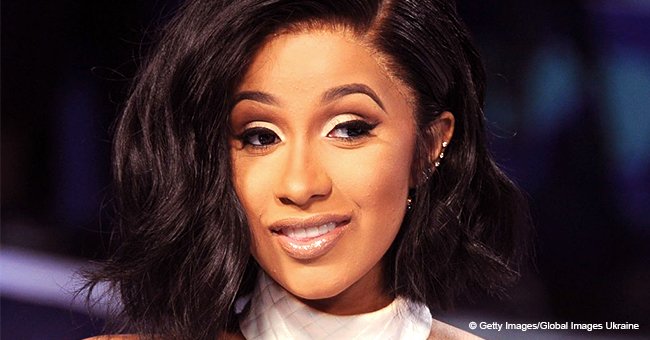 Cardi B Melts Hearts with Rare Video of Daughter Giggling as She Listens to Dad Offset's New Song
Cardi B delighted her fans by sharing a video of her tiny daughter Kulture listening to her father's music.
Cardi B has been shielding her baby daughter Kulture from the public eye since her birth in July 2018
The rapper, who is married to fellow musician, Offset, has posted few photos of Kulture on social media, and this is only the second time she has shown the baby's face.
"This is one my favorite songs from my daddy the other ones you'll hear it tonight !! Go PAPA Go PAPA # Fatherof4."
KULTURE IS LOVING DADDY'S SONG
Cardi B, 26, posted a sweet video on Instagram that showed her baby girl laughing happily as she listens to a song by her father, Offset.
The adorable baby is wearing a cute shocking pink hoodie pattered with white cats and shows that she has inherited her mom's beauty.
Cardi B and Offset were married in a secret ceremony in 2017, but the relationship hasn't always been smooth sailing.
ON DADDY'S ALBUM COVER "FATHER OF 4"
Kulture is featured along with her half-brothers and sister on the cover of Offsets new album, "Father of 4." On the cover, the rapper can be seen dressed in traditional African dress seated on a throne.
A CLIP OF KULTURE ON DAD'S PHOTO SHOOT
A backstage clip of the photoshoot was also posted online and shows the adorable baby dressed in a pretty white lace dress, and wearing a tiny cap. She sits on dad's lap and looks frankly bewildered by the goings-on around her.
A COMPLICATED RELATIONSHIP WITH OFFSET
Cardi B and Offset were married in a secret ceremony in 2017, but the relationship hasn't always been smooth sailing.
In December 2018, Cardi B announced that she and Offset were separating due to the rapper's infidelity.
They appear to have reconciled and in February 2019, they went to the Grammys together, where they accepted the award for Best Rap Album.
CARDY B SUPPORTS KHLOE KARDASHIAN IN HER ORDEAL
Cardy B has come out in support of fellow celebrity Khloé Kardashian as she faces yet another infidelity scandal with Tristan Thompson.
"Obviously this whole Khloe Kardashian thing...everybody is just like celebrating that that happened to her and it's like why?"
Many detractors on social media have commented that it was "karma" and expressed malicious satisfaction at Kardashian's misfortune.
The rapper pointed out that it was inconceivable for women to rejoice over another woman's pain - especially when she is the mother of a young baby.
Cardi B herself went through the anguish of working through her husband Offset's infidelity and sympathizes with Kardashian's pain.
In a related story, Cardi B called out Jussie Smollett for ruining Black History Month because of his staged attack claims.
Please fill in your e-mail so we can share with you our top stories!