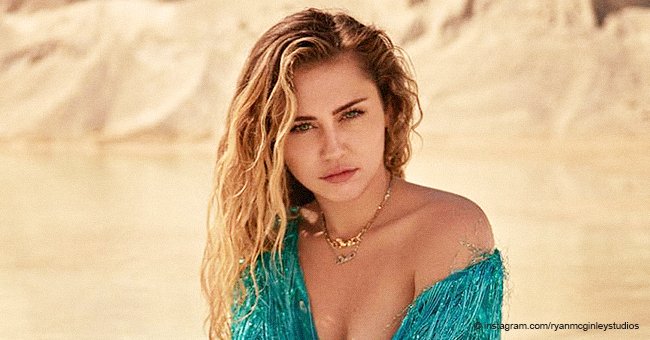 Miley Cyrus Calls Trump 'Racist, Sexist, Hateful' in New Interview after Posing Almost Naked

The famous "Wrecking Ball" singer was interviewed for the next issue of Vanity Fair. The highlights, however, seem to be her description of President Donald Trump.
Miley Cyrus is the cover star of the next Vanity Fair Magazine issue set to be released in March. As such, she was interviewed and also modeled for the cover photo shoot titled "Miley Everlasting."
The cover story had the award-winning entertainer who recently revealed her secret wedding pictures responding to some up-close and personal questions.
With significant topics like the November disaster, her marriage, and her wild adventures being major subjects, she held nothing back as she voiced her thoughts.
In the interview, held February 21, 2019, Cyrus clearly outlined her desire to find her true self even amidst the many hurdles thrown at her.
One of which was the California wildfires that burned down her home and the homes of many other stars like Robin Thicke.
Explaining how tumultuous her emotions had been at the time, she appears a lot different from the smiley Miley we all know.
She is a woman of many experiences, and this was backed by the mature theme of the photos shot for the cover story.
Perfectly styled and sporting just the perfect hairdo and accessories, the numerous photos depict Cyrus in only the ideal light.
The imagery is a lot more refined compared to the racy Miley who we all watched try to get rid of the many restraints that came with being a Disney child star.
According to her, playing Hannah Montana had made her feel like America's Supernanny!
The pressure got to her, and it got her into some trouble. Really, who can forget her raunchy 2013 MTV VMA performance which, she said, even caught Donald Trump's attention!
According to Miley, Trump gave her a call the very next morning to tell her he "loved" the performance. Riled, the 26-year-old singer went on to blast Trump even calling him a "completely racist, sexist, hateful asshole."
Cyrus:
"You know, I said I would move away if he became president. We all said a bunch of shit we didn't mean. Because we really thought: Maybe people will listen. Maybe people actually realize how detrimental this will be to our fucking country if this happens. Obviously they didn't."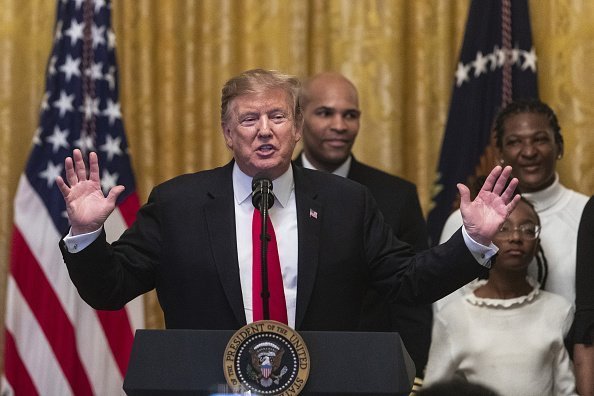 U.S. President Donald Trump speaks during a National African American History Month reception in Washington, D.C.| Photo: Getty Images
Her choice of words have sparked talk on many media outlets, but it's quite evident that she couldn't care less!
Meanwhile, big poppa Billy Ray Cyrus proudly shares a photo of his decades-old wife, Tish Cyrus standing and smiling next to enormous bags of marijuana! The Cyruses are sure the entertaining family!
Please fill in your e-mail so we can share with you our top stories!