20 Years Ago Alan Jackson Made 'True Country Music Proud' as He Sang George Jones' Hit at the CMA
February 26, 2019 | by

Oyin Balogun
The country music star, Alan Jackson stood up for George Jones by singing his song. A move that left his mentor, and friend emotional.
Although artists, country music stars not excluded, are often perceived to have haughty and standoffish attitudes usually to one another, there are times when the softness of humanity is seen in them. 
Country music star Alan Jackson exemplified true musician solidarity for his friend and mentor, George Jones, who is arguably the most excellent country musician of all time. 
In 1999, both musicians were at high points in their careers. Jones had released an album in May of that year with the title Cold Hard Truth. The record was one of his best performing alba, and it was made famous by the wide acclaim of one song "Choices," which was about Jones' life and his struggle with drugs, alcohol, and money.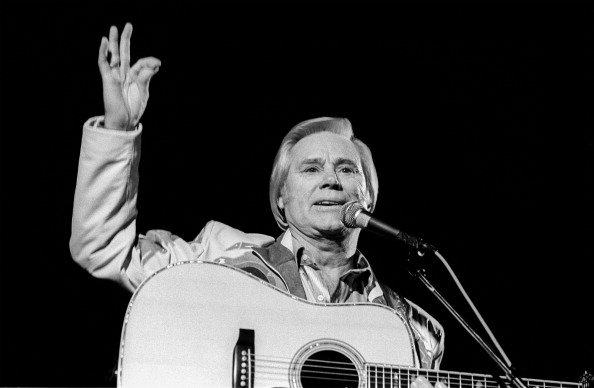 The song also earned him a Grammy award for Best Male Country Vocal Performance. At the Country Music Association (CMA) Awards of that year, the song was nominated in the "Single of the Year" category. Being such a huge success, the organizers asked Jones to perform the song at the award ceremony. 
They, however, stipulated that a shortened version of the song be sung because of time constraints, a condition Jones could not comply with since the number was too close to home for him. So he boycotted the event entirely and watched from his home.
Incidentally, his friend, Jackson, was also scheduled to perform his music, "Pop a Top" which was more successful than 'Choices' on the charts at that time. He was however given the go-ahead to sing in full. But Jackson had other plans. He was unhappy that his idol would not be able to sing as he wanted, so he found his way to honor Jones at the event.
In the middle of an instrumental break while performing 'Pop a Top,' Jackson stopped singing and burst into an emotional rendition of Jones' "Choices" to the applause and cheers of the audience. After finishing the show, the singer walked off the stage, with his guitar in hand. 
It was reported that Jones got teary-eyed as he took in the tribute from his friend. Jones' song, however, lost out to Dixie Chicks' 'Wide Open Spaces.' Besides this, Jackson has had other memorable performances over the years. 
One of these was in 2013 when he performed "He Stopped Loving Her Today," known as the saddest song in country music history, at the Grand Ole Opry House during Jones' funeral service. He left many in the sermon with tears in their eyes and was cheered immensely after the performance. 
Another of his most unforgettable moments was that of "Where Were You When the World Stopped Turning?" at the 2001 CMA Awards. The song was about the tragic incidents of September 11, 2001, in the United States. Many have claimed that it was the most meaningful performance in CMA history.