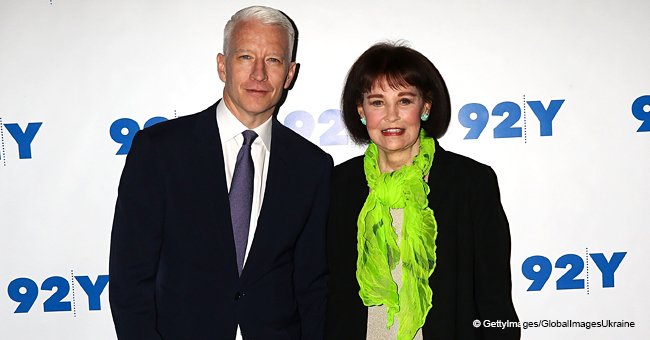 Anderson Cooper Reveals a Cheeky Secret about His Mom's Love Life on Her 95th Birthday

Renowned journalist Anderson Cooper revealed an intriguing secret about his mother's love life as he celebrates her 95th birthday.
Any mother or son would wish for the kind of relationship between CNN anchor Anderson Cooper and his popular mom, Gloria Vanderbilt.
Cooper blessed the internet once again with a beautiful tribute to his mother as she turns 95. Gloria Lauren Vanderbilt just clocked 95, and she looks 40 years younger. The ageless beauty still stuns and makes it hard to believe that she's five years shy of being a century old.
With pictures which featured himself, his mom, his father and Vanderbilt's late husband, Cooper wrote a beautiful message to his mom and spilled a cheeky secret about her love life. The 51-year-old newscaster said his mother still believes so much in love that she feels her "next great love is right around the corner."
"Happy 95th Birthday to my mom, @gloriavanderbilt. Still painting everyday @gloriavanderbiltstudio. Still dreaming and creating, still believing the next great love is right around the corner. Who knows? Maybe she is right? I love you, Mom."
Isn't that amazing? There are one hundred and one teenagers out there who have lost all hopes in love but here is a woman who would give love a chance even at 95.
Vanderbilt lived a charming life in most of the years, and she's not stopped doing that. The list of what her hands have done is endless; she paints, writes, and entertains people with her comic talent.
Even as an heiress to one of the most elite families in America, Vanderbilt never lost focus on becoming a better person. Through sheer hard work over the years, the socialite has in her cart tons of achievements that we cannot begin to count.
Gloria Vanderbilt raised her son with the same legacy she's lived.
According to a report, Cooper won't be getting a dime from his mother's $200-Million fortune, and he isn't bothered about it.In an interview with Howard Stern, Cooper said:
"My mom's made clear to me that there's no trust fund. There's none of that. [And] I don't believe in inheriting money."
Vanderbilt continues to touch lives with her legacy every day.
Please fill in your e-mail so we can share with you our top stories!