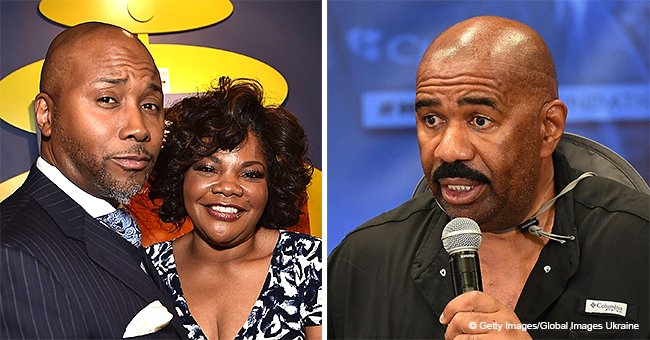 Mo'Nique's Husband Breaks Silence, Compares Her to Malcolm X & MLK after Clash with Steve Harvey

Mo'Nique and her husband Sidney Hicks tackled the most recent controversy that she's facing, this time with her old friend Steve Harvey. In the couple's weekly podcast, Hicks compares the comedian to Malcolm X and Martin Luther King after her argument with the famous talk show host.
Mo'Nique has been in quite a number of controversies in the past few months, the most recent being against her good old friend Steve Harvey. On the latest episode of their podcast "Monique & Sidney's Open Relationship," the couple addressed this controversy and made sure to throw in some shade.
Sidney spoke about the way Harvey handled their live argument on air, saying:
"When her and Steve got a chance to discuss it, you got a chance to see it in a very rudimentary way. A very elementary and basic way laid out."
Mo'Nique also said that people are willing to do so much to get money and fame, and encouraged people not to hate on the people she's called out. While she herself decided to call out the likes of Steve Harvey, calling him a sellout, she says that she doesn't want her fans to persecute them for what they did to her.
"There's still so many that say, 'Oh, I got it, and I ain't gon' do [expletive] to mess it up. And whatever it take for me to keep it-' So what we're saying right now is, it's being said out of love. Someone put, 'I hate Steve.' Please don't. That's the last thing we want, baby. The last thing we want is for anybody to hate our brother. For anybody to hate Oprah, Tyler, Lee, Steve, Will Packer– we don't want nobody to hate our brothers and sisters. What we want is for us to fall in love with each other for real."
After Mo explained her side, Sidney compared his wife to Malcolm X and Martin Luther King, saying that in history, it's like Mo'Nique was the person they silenced for standing up for her rights.
"The same people that we deal with now, in history, that's saying, 'Mo'Nique, you should be quiet,' were the same ones who told Malcolm. They were the same ones who told MLK, 'Y'all were crazy for standing up for your rights.'"
Monique and Sidney are referring to Oprah Winfrey, Tyler Perry, Lee Daniels, and Steve Harvey when it comes to who silenced her, as they allegedly tried to blackball her from the entertainment industry. Aside from them, she also previously asked her fans to boycott the streaming giant, Netflix, for offering her so much less than what they offered Dave Chappelle, Amy Schumer, and Chris Rock.
In the end, Sidney summarised what he wanted to say, which was that for Lionsgate, Tyler Perry, Oprah Winfrey, and Lee Daniels know that to expect Mo'Nique to promote a movie internationally, she must be paid.
" […] They, then, said, 'What is it that we can do for Mo'Nique to have a go?' I, then, said, 'There's a dollar amount.' That's when everyone passed out, there was a black-out, people fell out – and then there was a rumor that she was asking for money to promote the movie. So, when you get a chance to see and pull back the lens, what she was saying is, 'I can't allow Hollywood to take advantage of me,' especially as an Academy Award-winner."
Watch the latest episode of their podcast here:
Please fill in your e-mail so we can share with you our top stories!