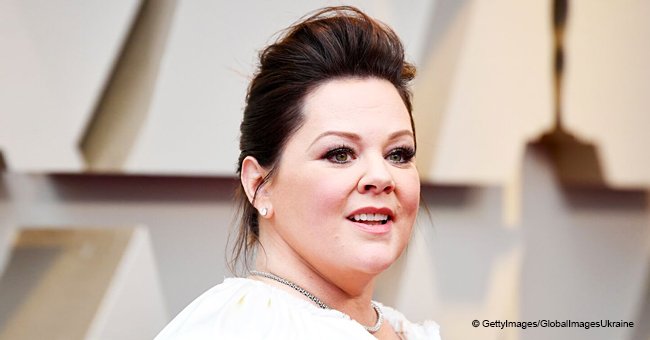 Melissa McCarthy Took the Chic Pantsuit Game to the Next Level with Her Custom Ensemble
Melissa McCarthy turned the heads of viewers and attendees alike at the Academy Awards on Sunday night with her extravagant pantsuit.
The bold outfit was a sight to behold as McCarthy stood next to Billy Porter for an interview for ABC. One fan named Dave Itzkoff recorded as actress Glenn Close got a look of the outfit.
He uploaded it to Twitter and the reactions came pouring in. Both Close and McCarthy were nominated for Best Actress that night. Yet it was Close who expressed shock and awe at McCarthy's custom ensemble.
McCarthy, 48, wore a black and white pantsuit that featured a white, floor-length cape. The "Can You Ever Forgive Me?" star had her hair styled back. Close looked over and caught wind of the outfit.
Her eyes bulged. Then, she gave McCarthy the side-eye before looking away with her eyes pursed in a sign of approval. Online, many others showed their amazement at the look.
Close seems to be a fan of McCarthy both on and off the red carpet, however. The four-time Best Actress nominee recently posted a photo of McCarthy on Instagram, calling her her "category sister."
Again, the two were both nominated for awards at the BAFTAs. Jonathan Pryce, who plays Close's husband in "The Wife," was also featured in the photograph.
For the Oscars, Close also looked elegant in a metallic gold dress with a train trailing at its back. However, neither woman won the award which went to Olivia Colman.
McCarthy is also a fan of Close as shown in her Oscar portfolio for PEOPLE. She said that Close's role in "Dangerous Liaisons" lead to one of her all-time favorite moments at the point when everyone turned on Close.
She explained:
"And you watch her in the movie completely flush red. There's no CGI. It's just her feeling it and her body reacting, and I literally remember being like, did everyone freak out? When that happened, and they got it on film, they must have just lost their minds. It still gives me chills to think about."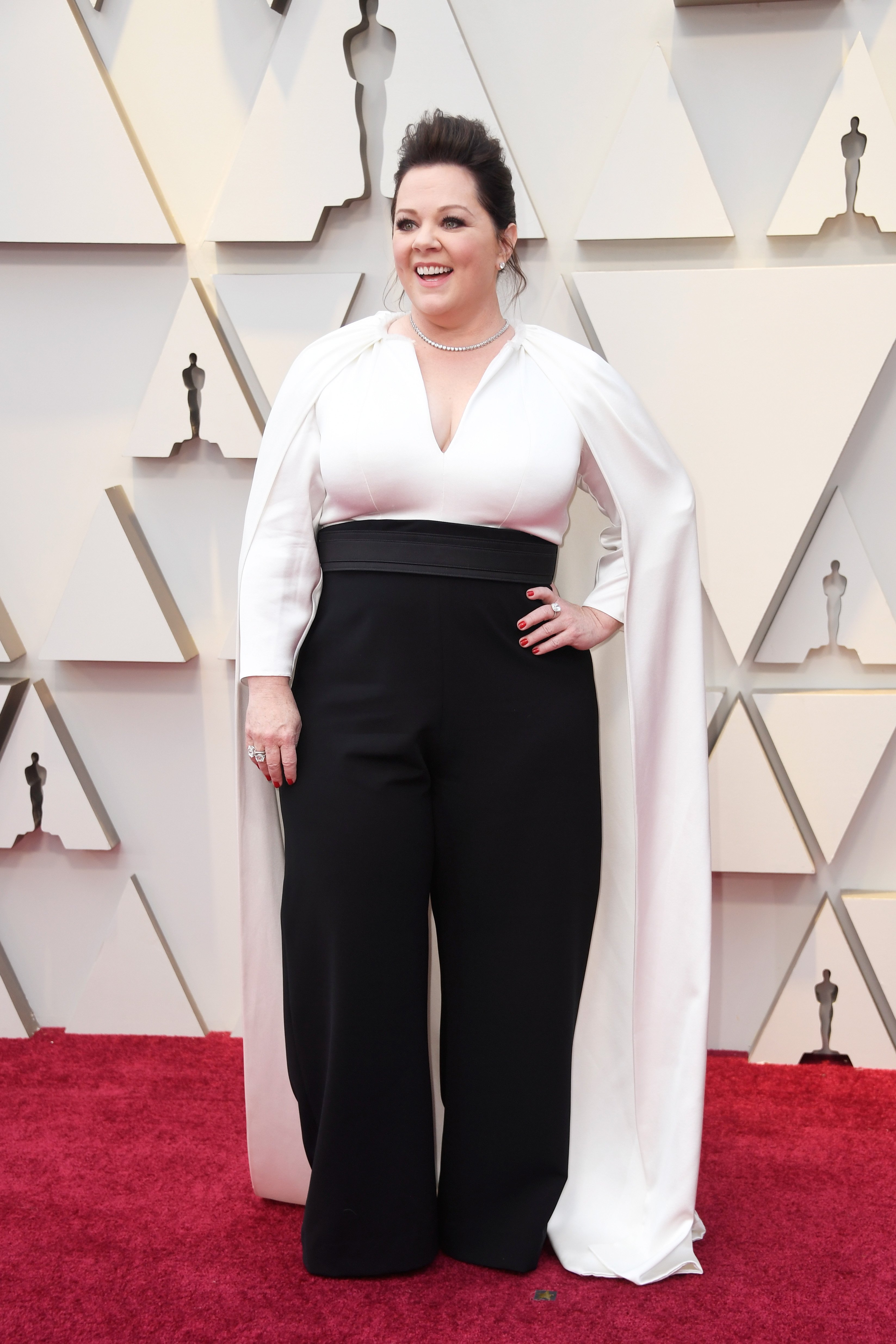 Melissa McCarthy at the 91st Annual Academy Awards | Photo: Getty Images
After the actress rocked her pantsuit, she went in a totally opposite direction for the Vanity Fair Oscars party. She and husband Ben Falcone wore Adidas tracksuits.
The pair were obviously ready to party in comfort rather than style after the grand affair. McCarthy wore black Nike sneakers to show off her moves while Falcone was a bit more dramatic with some sparkly Converse.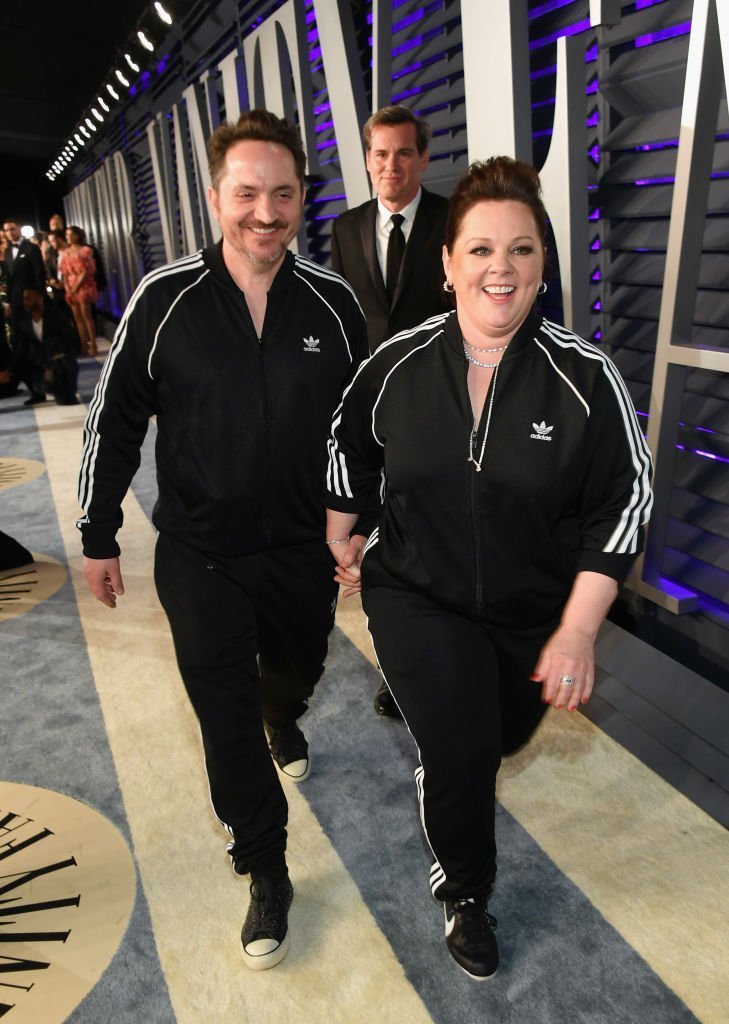 Melissa McCarthy and Ben Falcone at the Vanity Fair Oscars Party 2019 | Photo: Getty Images
Although McCarthy didn't win at the Oscars, she did pick up the less than desired Razzie awards. The Golden Raspberries deemed her worst actress for her roles in "The Happytime Murders" and "Life of the Party."
Last week, McCarthy again dished it out with another pantsuit ensemble at the Make-up Artists and Hair Stylists Guild Awards on Saturday. Her black pantsuit complimented her figure and gave her a composed look.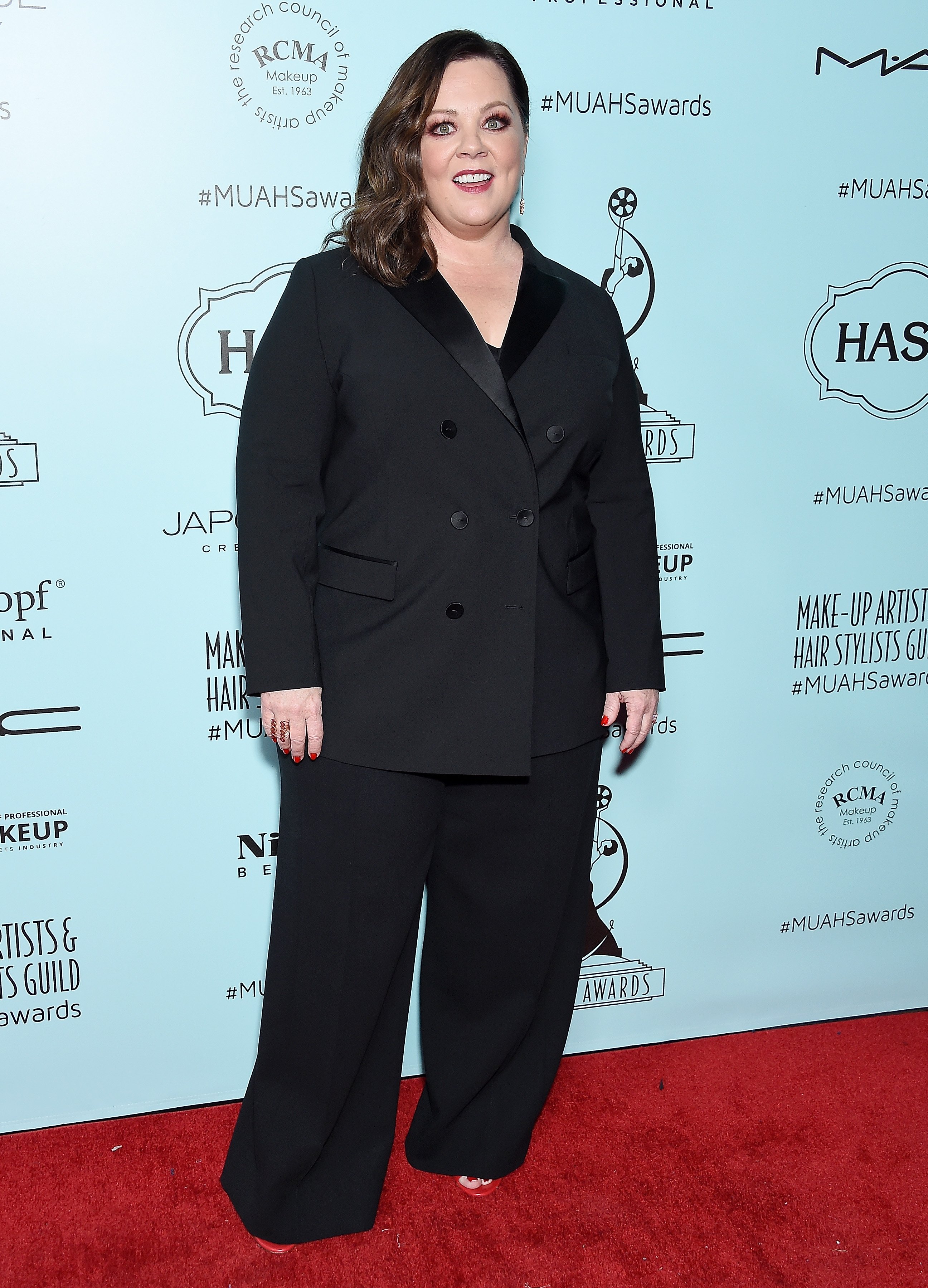 Melissa McCarthy at the Make-Up Artists and Hair Stylists Guild Awards in February 2019 | Photo: Getty Images
The wide legged pants came down to fully cover her feet. She wore no neck piece, and instead showed off the shine of the suit's v-shaped neck. Her makeup was classically done with dark eyeliner and a red lip.
Please fill in your e-mail so we can share with you our top stories!