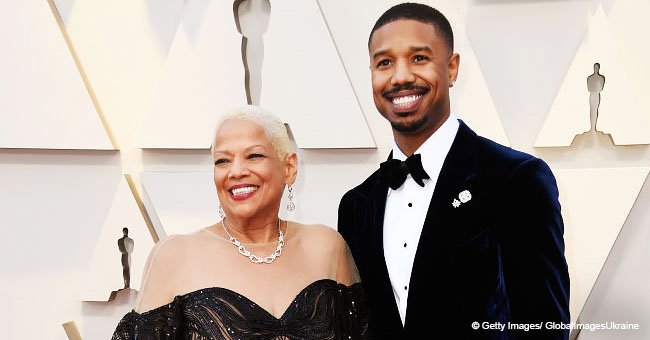 Michael B. Jordan Brings Mom as His Date to the Oscars and They Catch Everybody's Attention

"Black Panther" had an impressive outing at this year's Oscars and it seems one of the movie stars, Michael B. Jordan had it even better, thanks to his date choice that has fans saying all the right things.
Michael, 32, has never hidden his love for his mom, Donna Jordan, and when the time came to attend the 91st Academy Awards on Sunday, he didn't stress over who his date would be.
While most actors grace the Oscars red carpet with their partners or decide to go alone, the "Creed" star chose to go with his delectable momma and was so excited about it that he showed her off way before the event.
"I love my parents, but we have a roommate relationship right now." ~ Michael B. Jordan
Michael took to Instagram with a heart-melting photo of the pair. While he rocked a blue suede jacket, black pants, and matching shoes, Donna looked glamorous in a glittering black-and-cream gown.
The senior stunner wore her short hair blond and accessorized with light jewelry and makeup.
Although his mom was a sight to behold, it was Michael's caption that had fans getting emotional. He joked:
"My mama about to make me have to fight somebody she looking so pretty. #Oscars2019 #PopsIGotYou #DateNight"
In only one day, the picture of mother and son grinning happily as they pose for the camera has over two million likes and thousands of comments.
"I'm smiling so hard!!! I'm sure that was the best feeling ever for her," said one Instagram user.
"It's sweet to see a man so protective of his mom!" chimed in another obvious fan. "I get a kick out of it when my 18-year-old gets protective too. Lol"
A third person gushed:
"Lovely cherish your mommy she is the most important person in your life."
The "Fantastic Four" actor also shared a video of the two in the car on their way to the awards. He surprised his mom with his sneaky attempt at taking a video, and she couldn't help smiling at his shenanigans.

A screenshot of an Instagram user's comment. | Photo: Instagram/Michael B. Jordan
Last year, Michael revealed that he was finally moving out of the Sherman Oaks Mansion where his parents lived with him.
During an appearance on "The Ellen DeGeneres Show," Michael admitted that there were pros to living with his mom and dad, but there were also cons:
"I love my parents, but we have a roommate relationship right now, which is interesting. You get home-cooked meals but then you also have random trips to the kitchen in the middle of the night - just the random run-ins that might be uncomfortable from time to time."
Whether he's living with them or not, it appears the "Fruitvale Station" continues to enjoy a friendly relationship with his mom.
We're sure Donna was excited to witness live as "Black Panther," in which Michael stars as Killmonger, scooped three Oscar wins out of the seven nominations it received.
Please fill in your e-mail so we can share with you our top stories!