Stray Dog Looks like He Is in Heaven When He Finally Relaxes on Rescuer's Shoulder
A homeless and sick puppy finally relaxes when he realizes that someone is taking him to a new home. Now he has a loving family.
It was a very hot day in Dubai when a good-hearted man named Anand Raman went to visit his sister at work. Everyone who passed outside the office tried to rest from the sun and the heat, including a dirty young dog who wandered looking for some shade.
The dog got under a car to rest and eat the leftovers that some of the workers had left him. Anand then observed the dog in detail and saw that his fur was tangled and his legs were not quite right.
Even in that condition, when the dog saw Anand, he ran out to him, as if he knew him before. Anand did not plan to get a new pet that day but just a look at the happy puppy was enough for him to know what he should do.
Anand told The Dodo:
"He approached me with a curious but excited disposition, wagging his tail excitedly," he said. "This demeanor of his is what initially made me fall in love with him. We then sat there for a while on the sidewalk and he was content just receiving pets from me for a while."
With the help of his sister and brother-in-law, Anand took the dog to the vet. The poor puppy was so exhausted that he immediately fell asleep on his shoulder on the car trip to the hospital.
THE DOG IS NOW IN A LOVING HOME
Once there, the reason behind the dog's wobbly gait was discovered: he had rickets on both front legs due to malnutrition. Fortunately, the condition is treatable and will not have lasting effects.
Then, Anand took the dog home, gave him a bath and was surprised to discover that his coat was actually pure white after all the dirt and grime had fallen off his body. Anand called the dog Snowy, by the color of his coat.
But teaching a dog that spent his entire life surviving on the streets that he was finally safe was a bit difficult. When he got home he would sit in a corner, like he could not understand that he now had a loving home.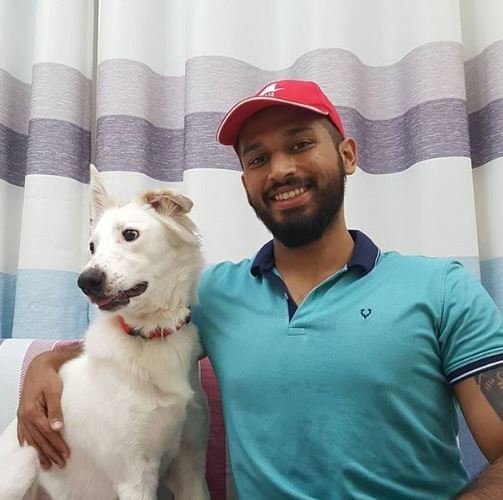 When Anand took him for a walk, he was constantly terrified that they would leave him in the streets, so it took him a while to understand that it would never happen.
Two months later, Snowy finally understands what it is to be loved. He sleeps and waits for his family to come home from work, to shower them with many kisses. Snowy loves to cuddle with his new father, even when he is not sleepy.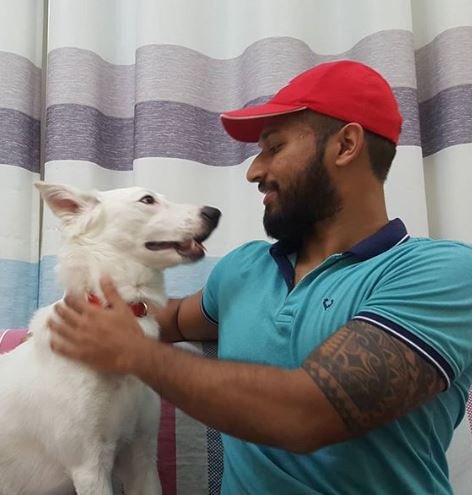 In a similar story, a puppy was left to die tied to a tree in the middle of the snow, to survive he looked for warmth as he could. Luckily, his strong screams alerted the rescuers.
The pit bull mix puppy almost didn't survive, but his immense desire to have a second chance resulted in loud screams that alerted neighbors and that could make this beautiful puppy be rescued.