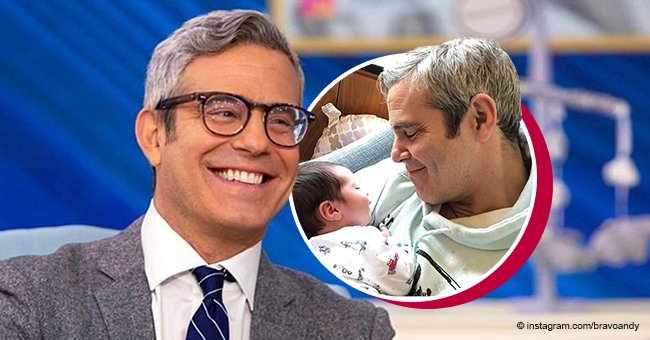 Andy Cohen Shares a Sweet New Photo of His Son and It's Pure Love
Andy Cohen shared a picture of him and his newborn son and we simply couldn't handle all that cuteness.
The Bravo host took to Instagram on Tuesday to share a sweet photo of three-week-old Benjamin Allen Cohen. The post is found below.
Upon his birth, Cohen initially shared a picture showing the back of Benjamin's head who lay smiling on Andy's chest. He gave all the details in the caption.
Posted on February 5, Andy wrote:
"WOW! This is my son, Benjamin Allen Cohen. He is 9 lbs 2 ounces !! 20 inches !! Born at 6:35 pm, PT He is named after my grandfather Ben Allen. I'm in love. And speechless. And eternally grateful to an incredible surrogate. And I'm a dad. Wow."
Just over two weeks ago, Cohen shared another picture of Benjamin laying on his chest. In the caption, he explained that he had had a long "first week back at work" and this was the best part of the day.
He also apologized in the post saying, "Sorry if I'm oversharing about the baby. I'll calm down." Of course, the fans let him know that they couldn't get enough.
Cohen, 50, further shared a Valentine's day photo of him and his pup on February 14. He declared himself lucky to have two valentines at the time.
A week later he posted another photo of his dog giving Benjamin a precious kiss on the nose. His caption referenced that people were asking about how the two were getting along and in response, he said: "Here you go!"
Prior to that, when Benjamin was only one week old, he told PEOPLE about the little things he looks forward to when it comes to his son.
He said:
"First day of school, bar mitzvah, just tucking him in, being on the beach with him… I'm in a place in my life where I have a pretty generous schedule and where I can afford to pick up and go somewhere for the weekend."
The day after Valentine's, Cohen shared another father-son photo of him and Benjamin with both of them resting their hand underneath their chins. Both also had their eyes closed but Cohen wore a warm smile.
Cohen even shared a video of he and Benjamin taken just after the surrogate birth. In a segment on "Watch What Happens: Live," Cohen beamed as he spoke of his new baby.
Our hearts are melting at the sight of so many loving images of Andy and his new little one. We wish the baby health and wealth as he continues to grow and be loved.
Please fill in your e-mail so we can share with you our top stories!