Meghan Markle Checks Her Baby Bump in an Adorable Video, and Harry's Reaction Later Is Pure Gold
Both Meghan Markle and Prince Harry gave their fans something to giggle about during their most recent royal visit to Morocco. 
A video clip was shared by Daily Mail's royal correspondent, Rebecca English, show Meghan discreetly looking down at the baby bump. 
Fans simply adored the gesture, with several Netizens convinced they could see the royal tot giving his mommy-to-be a kick. 
One user said: "Oh I definitely saw a kick there. Pretty high one too."
Another user known only as Slufoot1948 said the baby must have been moving, adding that you can see her top move when you zoom in. 
Not everyone one was convinced, with Caren Callahan saying: "That was the wind blowing her shirt."
February 25, 2019
Another added: "I don't see a kick, I do see the wind blowing her shirt. Anyway, she's fab!"
The couple was at a Moroccan NGO Education For All event, listening to a talk about how the organization provides education for girls aged between 12 and 18. 
Meghan looked ever so elegant a loose-fitting with a white shirt and navy Alice + Olivia jacket. She completed the look with a pair of Manolo Blahnik pumps with a kitten heel. 
Harry and Meghan have picked up a few goodies to take home..... pic.twitter.com/5pD4uMj5V0

— Rebecca English (@RE_DailyMail) February 25, 2019
As reported by Daily Mail, Meghan was in a lively conversation about her pregnancy, when Prince Harry feigned surprise over her royal baby bump. 
The couple was seated next to each other when Harry looked at her and pulled a face of mock shock. Without skipping a beat, Meghan yelled out: "Surprise!"
Prince Harry then looked around the room and asked: "She's pregnant?" 
The Duke and Duchess of Sussex (with a quick look down at her tummy!) pic.twitter.com/JovLUxSGDB

— Rebecca English (@RE_DailyMail) February 24, 2019
Before leaving on her three-day Moroccan tour with Prince Harry, Meghan flew solo to New York for a baby shower hosted by her good friend, Serena Williams. 
The event reportedly put Williams back about $200,000, and Kensington Palace confirmed that Meghan's flight to New York was privately funded. No taxpayers money was used.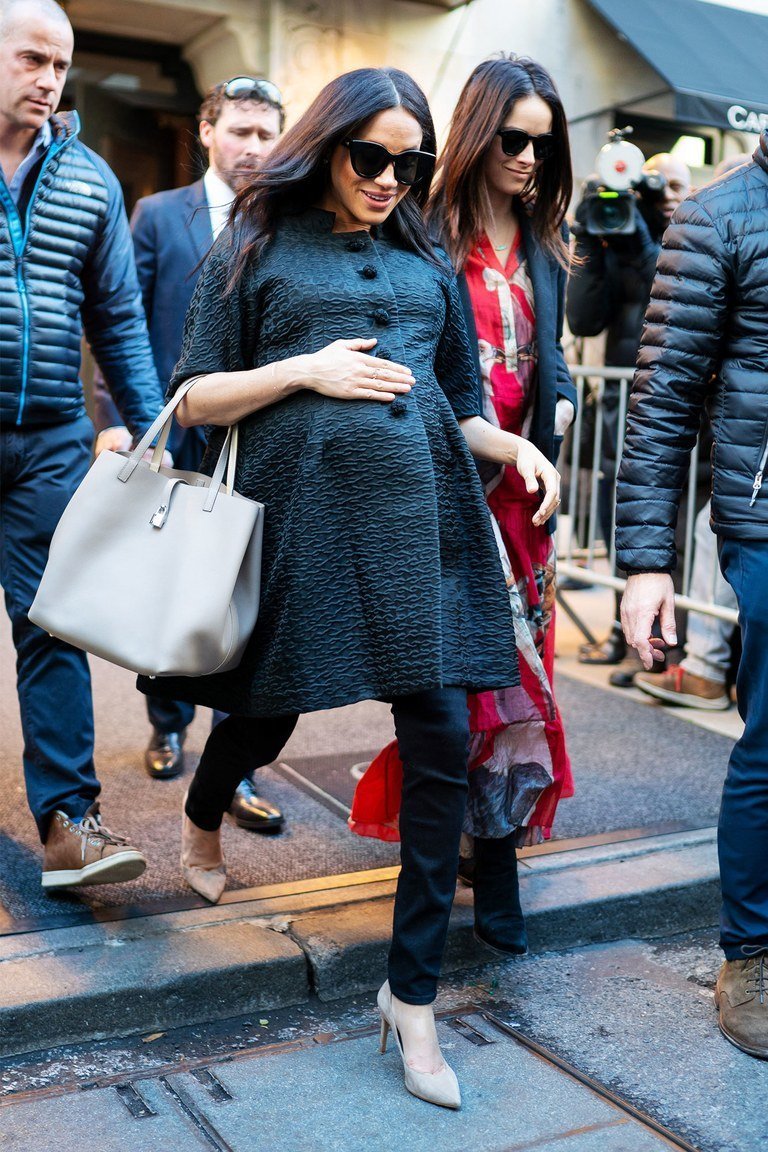 A-listers who attended the baby shower included Amal Clooney and Gayle King. Sister-in-law Kate Middleton couldn't make it. 
Kensington Palace confirmed that Kate, Prince William, and their three royal tots are on holiday, although the location wasn't disclosed.