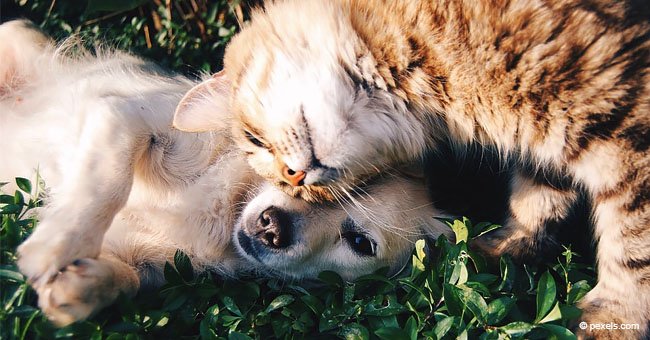 Heartbroken Cat Still Visits Dog Friend Every Day a Year after Its Tragic Death
A cat touched thousands of people by remembering her best friend every day even though her pal died more than a year ago.
An image of the feline in the courtyard where Gracie, an American Eskimo lived, touched thousands of users in social media.
The story takes place in a house in Alabama, USA, and it was shared by The Dodo, a site specialized in animal content.
According to Gracie's owner, Shea Belew Brennaman, her pet "loved nature [and] was protective of our house. She loved other animals and they loved her. "
And the best example of that is a cat called Baby Gray, who used to meet Gracie in the patio of the house to sunbathe.
The most striking thing is that, although Shea's pet died in November 2017, the cat continues to go to the house in search of his friend.
"When Baby began to come frequently, the two sunbathed and ate tomatoes together," Brennaman said.
She adds that it "breaks her heart" to see that the cat keeps going to the house to look for her friend.
For many, this story shows that the French novelist Colette was right when she said: "perfect companions never have less than four legs."
Some time ago, few people, including veterinarians, believed that cats grieve for deceased friends. In 1996, the ASPCA conducted the Companion Animal Mourning Project; they find out that 65 percent of the cats in the study showed four or more behavior changes after the death of a fellow pet.
The story of Gracie's feline friend longing for the dog since its passing seems to prove this theory.
"Animals like Gracie build friendships across species every day and humans should do the same. Many lessons can be learned from Gracie's and Baby Grey's unique friendship. Love one another," a thankful Brennaman wrote when she shared the article by The Dodo on her Facebook feed.
This reminds us of a former stray cat that can't get enough of her newborn human baby. Carla Reilly Moore and her husband are no longer shocked by the level of affection their pet showed to its new human sibling. The Siamese cat just loved her right away.
In Ontario, Moore and her husband run an animal sanctuary named "Happy Tails Farm Sanctuary" where they take in strays and turn their lives around with genuine love and care.
The Dodo reported how earlier this year, Moore was tasked with mending a skinny Siamese cat brought in by a concerned citizen.
Please fill in your e-mail so we can share with you our top stories!