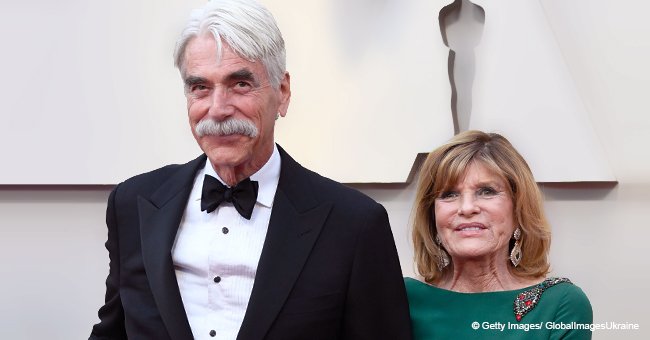 Throwback Pic of Sam Elliott and Katharine Ross Is Proof of Their Long Lasting Love Story

As Sam Elliott received attention for his role in the highly acclaimed film "A Star is Born," so did his long-lasting relationship. Katharine Ross and Sam have been married 34 years, and indeed no small accomplishment. Not in Hollywood, not anywhere.
Katharine had her first significant role as Elaine Robinson in the 1967 film, "The Graduate" while she also got well known for her role as Etta Place in 1969 with "Butch Cassidy and the Sundance Kid." In 1975 Katharine became Joanna Eberhart in "The Stepford Wives."
She changed husbands like she changed leading roles; none lasted longer than five years before Sam showed up. She spent two years with Joel Fabiani when she left him in 1962. John Marion made it to three years before they split up in 1967. Conrad L. Hall lasted five years until they parted ways in 1974, and the last in line before Same and Katharine got together was her marriage to Gaetano Lisi from 1974 until 1979.
With his mustache and one of a kind voice, it's hard to forget a role he portrayed. Roles the 74-year-old Sam is probably best known for is his most recent stint in "A Star Is Born." But who would forget Sam Elliott in "Tombstone," "The Ranch," the series "Justified," and "The Big Lewbowski."
The beautiful Katharine and Sam officially met in 1978 while they were working on the horror film, "The Legacy" shot in London. The played a terrorized couple at a creepy English country estate.
The couple unofficially met while on set during the making of "Butch Cassidy." Sam had a small role while Katharine was a leading lady, as Sam told AARP in 2015:
"I didn't dare try to talk to her then. She was the leading lady. I was a shadow on the wall, a glorified extra in a bar scene."
With both being in the same industry, finding time to spend together can be tricky. But it became clear where Sam's loyalty lay when his honeymoon was more important than the breakthrough role he almost passed up.
Sam's agent contacted him to test for the role of Cher's boyfriend in the movie "Mask" from 1985. The times overlapped with his honeymoon in Hawaii and Sam was not keen, he was not going to leave his bride on their honeymoon for a movie role.
His new wife did see to it that he made it to the casting in time and after all these years they teamed up in 2017 for the movie called "The Hero."
Their love is still going strong after 34 years, and Katharine believes joint projects like that strengthen a relationship as she said:
"Sometimes that's easier than real life. You're [sic] got a script. You've got a part. You've got your creative juices flowing together. It's not about the dirty dishes in the sink or whether you've picked something up at the laundry. …"
As Sam's take on a lasting relationship he refers to it as common sensibility and added:
"We have a common sensibility, but we also work at being together. You work past the s—; you don't walk away from it. That's how relationships last."
Dolly Parton is another legend that managed a longer than average marriage. The country legend and her husband Carl Thomas Dean has been married for 52 years, and still going strong. According to Dolly, their secret is that Carl doesn't try and change her as she told People:
"I always joke and laugh when people ask me what's the key to my long marriage and lasting love. I always say 'Stay gone!' and there's a lot of truth to that. I travel a lot, but we really enjoy each other when we're together and the little things we do. We've been together most of our lives. He doesn't care what I wear as long as I'm happy. He loves me the way I am."
What seems to have been a key factor for these long-lasting relationships are finding what worked for them as a couple, and building a life together on that.
Fans often remark about Sam's mustache, but comedian and television host at the Oscars, Guillermo got Sam to spill the beans on who styles his facial hair after a few shots of tequila.
Please fill in your e-mail so we can share with you our top stories!