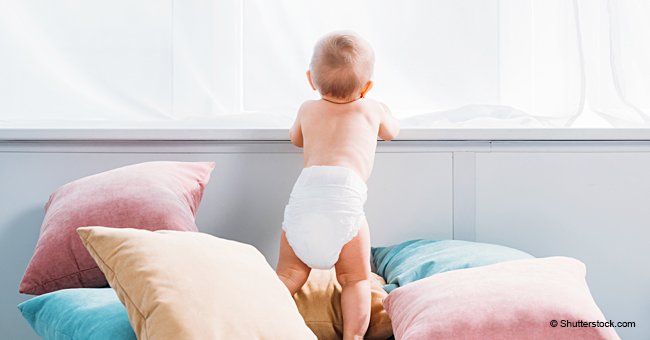 Mom Refused to Abort Baby That Was Given '0% Chance of Survival' and Asked God for a Miracle
At 16 weeks, Kate Mckinney and her husband, Bobby received terrible news about the condition of their baby boy and were encouraged to terminate the pregnancy.
Their anatomy scan showed that there was something wrong with the baby. A specialist informed them that they found fluid on the back of his neck which was considered an anomaly. He was given a 0% chance of survival. The condition was called cystic hygroma. In simple terms, he could have Down Syndrome, or a structural defect, or underdeveloped organs. They were advised to abort the pregnancy and made the procedure available to the couple immediately.
In tears, Kate recalled her past pregnancy experience,
"All I could think about was Emma and Ella 10 years ago. We were told they only had a 32.8% chance for both to be born alive. I was encouraged to terminate them, also. I couldn't believe I was here again."
After she calmed down, she knew what she had to do. Kate and Bobby decided with certainty that she would not have the abortion, even though the doctors persisted citing all the nightmare scenarios.
She was a good patient and complied with all the tests they required of her. She spent most of the time in tears. It was at this time that a nurse who was tasked to run some more tests on Kate reached out and said tenderly,
"Just have faith. Nothing is too big for God."
Kate was so moved by the encounter she wrote,
"In a doctors office, where it seemed like they were handing out lollipops with abortions, this woman was an angel. I know God put her there that day to tell me that. I needed to hear it. Her name was Whitney, and I never saw her again in that doctor's office in the 20+ times I was there. She was my angel that day."
She maintained weekly appointments and each time she was asked to reconsider abortion. So Kate and Bobby prayed intensely during those weeks. It was as she approached her 26th week that she asked God for a miracle.
The checkup that day involved another sonogram. This time, however, the specialist did not mention or measure the size of the cystic hygroma. Instead, the specialist called in a new doctor to explain what was happening.
Kate was expecting more bad news, but the doctor just said with a smile that it was because it had disappeared and therefore nothing to measure.
So, on November 5th, a perfect little boy was born. A miracle for all to see had joined their family.
Kate says of her experience,
"I choose life. Yesterday, today and tomorrow. I will pray for New York and the leaders that made that decision. As I know all too well, nothing is too big for God."
Kate Bledsoe Mckinney bravely posted her story on her Facebook page amidst the desperate times for those in favor of protecting life in the womb.
With the Democrat's latest win in New York with the enacted legislation allowing abortion well into the third trimester as a "fundamental right", thousands of pro-lifers declared February 23 as a Day of Mourning. Elizabeth Johnston, also known as blogger "Activist Mommy", said at the sold-out event at Empire State Plaza Convention Center,
"We are standing with these forgotten and thrown-away children, and promising to do all that is in our power to end the bloodshed and defend the weak."
In what seems like an uphill battle, President Trump requested the House of Representatives to remain vigilant and respect pro-life protections, stating,
"I believe it is the most basic duty of government to guard the innocent. With that in mind, I will veto any legislation that weakens current pro-life Federal policies and laws, or that encourages the destruction of innocent human life at any stage."
Please fill in your e-mail so we can share with you our top stories!