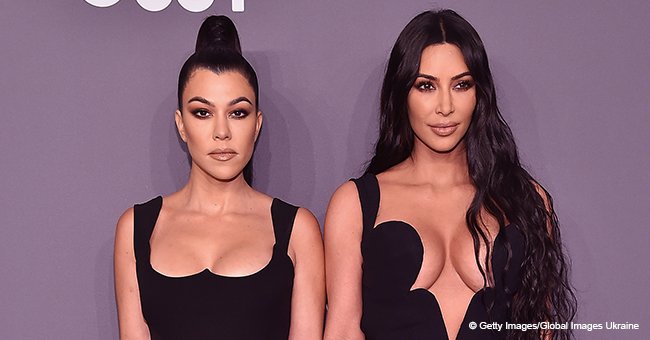 Kim and Kourtney Look Unrecognizable without Make-Up
In a surprise post from Kim and Kourtney Kardashian, they shared a selfie of them in face masks during a day of pampering and are barely recognizable!
The sisters shared a glimpse of their beauty treatment day as they tried face masks Drew Barrymore swears by. They looked so different in the selfie with their masks on. Their faces got pulled so tight they could barely pull their faces to smile for the pic.
Cracking a joke, Kourtney posted the image to Instagram with a caption, "Kim convinced me to use this face mask, and I feel stunning."
39-year-old Kourtney and 38-year-old Kim seemed to have patched things up after their blow out on their show last year. Kim accused her sister of being "the least exciting to look at" in the family, and their relationship was rocky at best for some time after.
It's not surprising that the sisters decided to try out the mask, as the Kardashians are known to stay on top of beauty trends.
The actress Drew Barrymore had previously sworn by the Hanacure mask, and the two sisters decided to try out the South Korean product.
Apparently, it takes ten years off your face, and a product that Drew found to be life-changing and she too posted a pic of herself with the mask on:
Many fans of the Kim and Kourtney commented on their face mask picture. However, it's something else that most saw as one fan said:
"I love how you've got dinosaurs stickers on the back of your phone. You've been stickered - a true mum x."
But fans were not that supportive when Kim posted an image on her Instagram Stories of North with makeup on. She had previously received backlash when North put on a bikini and straightened her hair. Taking after her mother the little one loves to dress up and pose for pictures.
So when Kim posted a clip of her "contour queen" she pre warned all the mom shamers of the makeup which she intended to wipe off because it was a bribe to get North into the car. Kim called her daughter the "best model" and removed layers of foundation until only the red lipstick remained.
Members of the Kardashian clan never cease to amaze, and recently Kim was a prime example when she traveled to Montreal, Canada. Kim attended the Thierry Mugler exhibition opening on February 25, 2019, and her dress for the evening is still talked about.
Please fill in your e-mail so we can share with you our top stories!