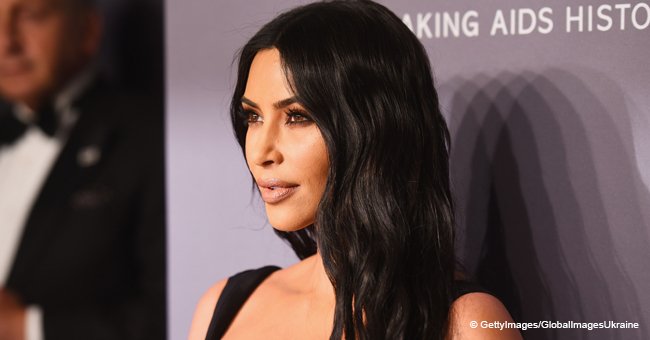 Kim K. Warns Parents to Monitor What Kids Are Watching as Alleged 'Momo Challenge' Raises Concern
Kim Kardashian warns parents of the danger of the horrific online Momo suicide game.
Mother of three Kim Kardashian has warned parents about a new challenge on the internet that may place their children's lives in danger.
Kim is raising the alert about an online 'suicide game' called Momo which allegedly encourages children to self-harm.
"Beware! This was just sent to me about what's being inserted in YouTube Kids. Please monitor what your kids are watching!"
THE "CHALLENGE" WHICH HAS BEEN LINKED TO TEEN SUICIDE
Internet challenges have become a growing concern for parents, as more and more teens - and sometimes younger - enthusiastically embrace the latest trends.
If they thought eating detergent capsules, inhaling cinnamon and putting their head in condoms was bad, they are in for a shock with Momo.
The dread Momo is a photo of a sculpture by Japanese special-effects company Link Factory.
THE FRIGHTENING MOMO TREND
The Momo challenge apparently began with a 45-second video clip that features a particularly frightening looking doll. In the background a child's voice chants:
"Momo! Momo! Momo is going to kill you! At night she'll come when you're in bed, in the morning you'll be dead!"
IS MOMO CAUSING CHILDREN TO SELF-HARM?
Children are supposedly being contacted on WhatsApp by an account claiming to be Momo. They are then asked to keep the contact secret and encouraged to carry out dangerous challenges.
BBC DECLARES THE MOMO CHALLENGE A HOAX
BBC fact-checkers have declared that the Momo challenge is actually a hoax. The claims that Momo had been linked to the deaths of 130 teenagers in Russia was also not corroborated by authorities. Claims self-harm by other teens under Mom's influence have yet to be substantiated.
However, copies of popular cartoons such as Peppa Pig have been uploaded to YouTube with the Momo clip edited in. Suddenly seeing the clip in the middle of their favorite cartoon may be distressing to children.
The dread Momo is a photo of a sculpture by Japanese special-effects company Link Factory.
GIRL WHO ENCOURAGED BOYFRIEND'S SUICIDE TO GO TO JAIL
In 2014 a Massachusetts teen was accused of involuntary manslaughter for encouraging her ex-boyfriend Conrad Roy to take his own life.
The prosecution presented evidence in the form of text messages that Carter sent to Roy encouraging him to go ahead with his plans to take his life using carbon monoxide poisoning.
Carter was found guilty and condemned to two and half years in jail, of which she will serve 15 months, the rest of the sentence being suspended by a Bristol County judge.
For confidential support in the United States call the National Suicide Prevention Line on 1-800-273-8255.
In a related story, a 10-year-boy reportedly died by suicide in Louisville after repeated bullying over
his colostomy bag.
Please fill in your e-mail so we can share with you our top stories!