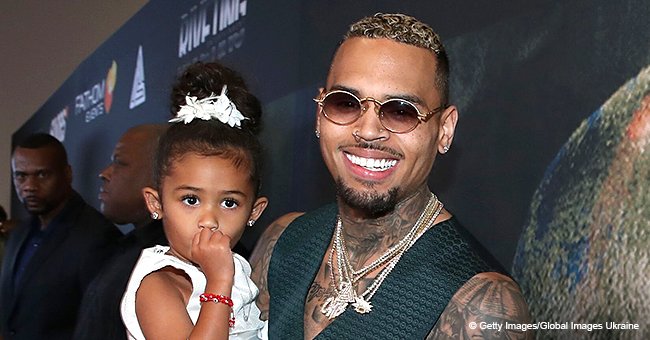 Chris Brown's Daughter Royalty Looks like a Little Lady in Black Velvet Top & Skirt in New Photos
Royalty Brown might be one of the youngest influencers on social media. At 4, she already has over 200k followers on her verified Instagram account, and some of her recent pics left fans gushing about her cuteness. She rocked a velvet outfit like a Rockstar, proving she's her parents' daughter.
Chris Brown and Nia Guzman's daughter, Royalty, is living up to her name. The adorable girl celebrated her 4th birthday last year with an expensive party that surely made her feel like a princess, and now she's enjoying the luxuries that come from being Chris Brown's only child.
In recent pics shared to her Instagram, which is managed by Guzman, Royalty looks like a Rockstar wearing a black velvet top with golden stars printed on it, a matching skirt and gray leggings. She completed the look with a PVC pink waist bag and Ray-Ban sunglasses.
Royalty no only posed for Instagram to show off her outfit, she also went out with her best friend Avery to watch a kids' movie.
"How to train your dragon won! #MovieNight #MeAndMyBestieAvery," a pic of the kids was captioned.
Fans couldn't help but gush about the girl's cuteness in the comment section. "Ro getting so big right in front of our eyes," wrote one user.
And another added,
"You are so beautiful! Love the outfit, Superstar!"
Royalty is currently splitting her time between both of her parents' houses after they got involved in a petty child support battle last year started by Guzman, who was asking for an increase in the checks she received from Brown.
The model mom alleged that she should receive up to $21k monthly instead of the original $2,500 established by the court. But Brown disagreed.
The 29-year-old stated in court documents obtained by The Blast that paying for more child support would result in "spoiling" Royalty and added "Providing a four-year-old with everything she demands could be harmful and is not in her best interest."
Guzman insisted she just wanted to protect her daughter from Chris' "crazy fans," and for that, she needed to increase security for the girl.
Brown did not budge to his ex's demands, and according to TMZ they were working on a deal that would be in Royalty's best interest, which would include an increase in child support, but not up to $21k, and a new house for Guzman and the child.
Even though Chris Brown has faced several blows to his integrity in the past months, first with rape allegations, and then for getting involved in a public dispute with rapper Offset, the "Loyalty" singer has assured fans that he's doing his best to be a good example for his daughter.
He told Ryan Seacrest on his radio show a few years ago that learning how to be a dad was an incredible experience and it helped him to slow down his life rhythm. And added:
"It's actually great. It's very humbling. You know, it's very calming. I think I was a lot, you know, rambunctious, very hyper as a kid but now seeing that ten times over, my daughter's kinda like mellowing me out."
Although Brown was released and denied the rape accusations, the investigation is ongoing in Paris and now he's suing the accuser for defamation.
Please fill in your e-mail so we can share with you our top stories!