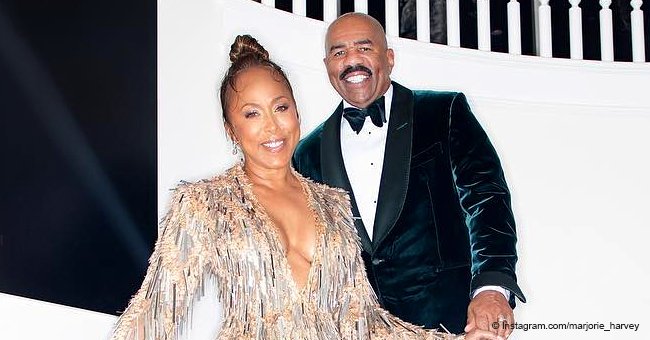 Steve Harvey's Wife Marjorie Flaunts Her Decolletage in Plunging Mini Dress in Pic with Husband
Marjorie Harvey looks stunning in recent pics shared to her Instagram from her date night with husband Steve Harvey. The fashionista mother of seven proved she still has the "it" factor by rocking a short dress that enhanced her best assets.
The Harveys know how to turn heads wherever they go, and Marjorie is the perfect example of that.
Rocking a long-sleeved fringe tassel mini dress, which featured a low neckline, Marjorie put her cleavage and toned legs on display, as the sparkling piece hugged her curvaceous figure in all the right places. She completed the look with nude heels and tied her hair in a tight bun.
However, Marjorie was not the only one ready for the flashes. She posed with her TV host husband on the stairs of their luxurious home, and Steve rocked a black velvet suit, bowtie, and black shoes.
FANS' REACTIONS
Marjorie only added a kiss emoji on the caption of her pic, but fans were quick to fill her comment section with praises for the good-looking couple.
"The Queen is slayed, and the King is serving serious swag......Beautiful couple" wrote one user.
Another added, "The baddest chick in the game." And a third one chimed in to say,
"They look so fabulous. It looks like they're ready for an episode Dancing with the stars."
A FRESH LOOK FOR STEVE
The pic comes a few days after Steve got rid of his salt-and-pepper beard, a look that he debuted last October and that he said was Marjorie's idea. "My wife likes it low, so it's whatever she says," he shared. "That's the only way I'm doing it if she don't like it, it's off! As soon as she says, 'Baby, I'm not feeling it no more,' oh, it's gone."
It seems like Marjorie finally got tired of the look and was ready to bring the old Steve back. Two weeks ago, she shared a pic showing off Harvey's new fresh look, with no beard in sight and his signature black mustache back in place.
"I had him shave," she said on Instagram. "I love it both ways."
THE DOWNSIDE OF SOCIAL MEDIA
Marjorie's love for sharing her family and life on social media has caused the fashionista to encounter some troubles with trolls and haters. For example, in January she shared an adorable video of her granddaughters, Rose and Elle, playing with their dolls and pretending to "breastfeed" them.
Both girls were really focused on the task, and when asked what they were doing, Rose said "feeding out babies." "From our boobies," Elle added.
Most fans found the video adorable and mentioned how it's likely the girls learned about breastfeeding from watching Rose's mom, Amanda Harvey, feeding her five-month-old son, Ezra. But others titled the video as "nasty," "unpleasant" and "not cute at all."
"This is the most unpleasant thing to watch a child do. You teach these things to adults, not children. You are a sick grandmother you need your head examined," one user complained.
However, for the few negative comments, there were thousands showing support. One user wrote:
"There is nothing inappropriate or shameful about young girls emulating their mother providing nourishment for their sibling. This is called bonding and also allows the girls to develop a positive sense of body awareness. This is LOVE!"
Even Marjorie hopped in on the comment section to address the haters, saying "Cleary some of y'all weren't breastfed. Maybe that's the problem. Some of y'all need a hug."
Please fill in your e-mail so we can share with you our top stories!