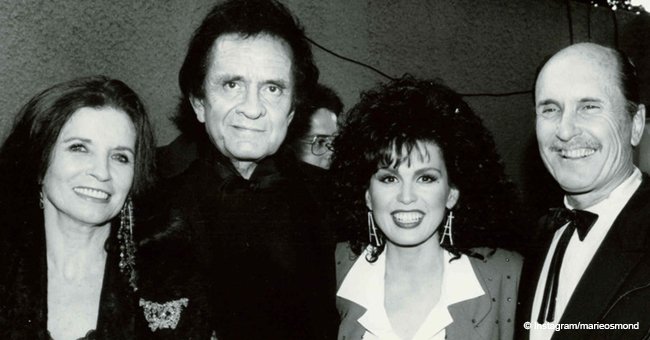 Marie Osmond Pays an Emotional Tribute to Johnny Cash in Honor of His Birthday

The stunning entertainer, Marie Osmond took to her social media page to share a black and white photo of herself with Johnny Cash. She did this in remembrance of the legendary singer.
Johnny Cash may be late, but he's undoubtedly not forgotten as his fans found many ways to celebrate his 97th birthday. One of them was by Marie Osborn, who is a famous singer and actress.
The 58-year-old took to her Instagram page to share a throwback picture of herself and her popular brother, Donny with Cash and his late wife, June Carter. That is a lot of famous people together in one place. Before her death in 2003, June was a Grammy award-winning singer much like Cash himself.
Marie captioned the photo with a heartfelt message which reads:
"Remembering #JohnnyCash today on his birthday, and found this photo from a fun night with friends. Blessed to have known Johnny & June and so grateful for the legacy they left on music."
Her words clearly show how much she treasures the memories associated with the photo and there is no arguing about Johnny and June's enormous impact on the music industry. Even long after their demise, they have remained influential names in the widely-populated industry.
Not everyone gets to take images with such legends, and Marie is very aware of this. The picture, which she posted on February 26th to commemorate Johnny's birthday has fast become a fan favorite with many of her followers taking to the comments section to voice their awe.
Some of them read:
"Thank you so much for sharing this today! A really great photo!" @grandmagoeck wrote.
@triton4618:
"That's so awesome!!! I'd love to hear you share about anything regarding your experience with Johnny Cash !!! There will never be another legend like again !! # FOLSOMBLUES."
A user, @kimpossible56 rightly commented:
"You were truly blessed to meet and work with some of the greatest entertainers."
As a member of the famous Osborn family that has rocked the music industry since the 70s, the beautiful slender actress who recently shared her journey through weight loss, has enjoyed an incredible career as an entertainer. Asides that, she has been very successful in pursuing a solo career as a singer and actress.
It is no wonder that she's encountered iconic people like Cash and his wife. According to a Social Gazette article, the Osmonds were close acquaintances of the Jacksons who also made waves as a family band back then. Donny Osmond was reportedly a close-knit pal of the now late King of Pop, Michael Jackson!
Please fill in your e-mail so we can share with you our top stories!