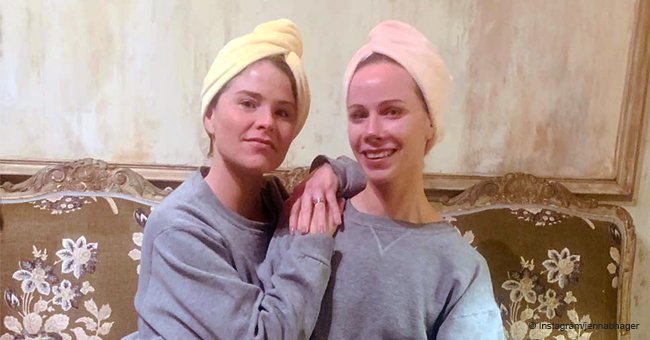 Jenna Bush Hager Shares Cute Twinning Photo with Her Sister before Joining 'Today' Show
Jenna Bush Hager won her Instagram followers over with a recent photo that shows her twinning in a grey track suit with her sister.
In the photo, Jenna and Barbara can be seen sitting on a sofa, wearing matching outfits, and their hair tied up on towels. Jenna wrote in the caption:
"Sister. Sister. (Grey track suit non optional!)"
Fans were endeared to the honest portrayal of sisterhood – both sitting fresh-faced and makeup-free while smiling sweetly at the camera.
Jenna is famously one half of the former US president George W. Bush's infamous twin daughters. They don't shy away from sharing snapshots from their lives online.
Family is important to Jenna, and one just has to scroll through her very active Instagram feed to see photos of her husband and children.
Many fans were surprised by Jenna and Barbara taking them behind the scenes of her childhood, and photos from the past usually rack up thousands of likes.
Jenna and Barbara made headlines for all the wrong reasons with their arrest for underage drinking nearly two decades ago.
Despite her busy schedule, Jenna finds the time to regularly share 'Throwback Thursday' photos. She shared personal moments on her Instagram of her and her sister from 1986.
Scanning further down Jenna's Instagram page reveals a couple of equally adorable little girls with suspiciously similar white outfits and hair accessories on.
One doesn't need to look very hard to realize that Jenna's daughters, 5-year-old Mila, and 3-year-old Poppy, cut a striking resemblance to their mother and her twin sister.
Fun fact, Poppy's name comes from a nickname Hager's Grandfather had while growing up. Friends and family lovingly called him Poppy Lou.
Back in 2015, Hager told Today that they were proud to name her "after a man we so adore."
The playful photos of Jenna's daughters and herself and Barbara were overwhelmingly popular on her Instagram feed. Her followers loved the recreation of the scene from Jenna's own childhood.
Please fill in your e-mail so we can share with you our top stories!