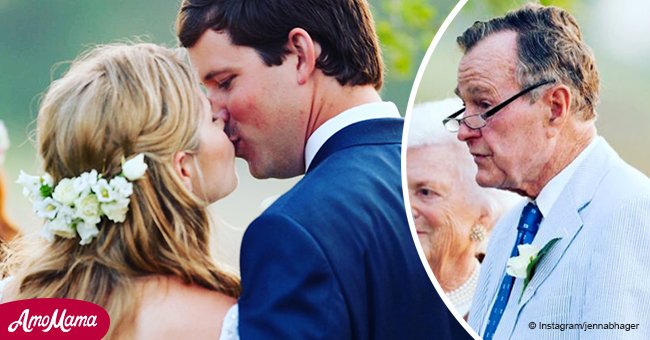 Jenna Bush Hager shared 10-year wedding anniversary photos honoring her grandparents

Jenna Bush Hager and husband Henry Hager celebrated 10 years of marriage on Thursday, May 10.
The couple exchanged vows on Jenna's parent's ranch. On their 10th anniversary she posted a photo on her social media that was captioned: "TEN years with this one by my side—could never imagine on that day in May how beautiful life would be. Love you H."
According to Faith Tap, Jenna also shared a picture paying tribute to her beloved grandparents Barbara and Former President George H.W. Bush, as they spoke at her wedding.
Henry decided to give her wife another lovely memory and presented her with a very touching gift. He gave her several photos of George and Barbara from 10 years ago taken at their wedding.
A few hours later, Jenna returned to her social media to show her followers what Henry gave her for their anniversary. "The best anniversary gift from my husband: pictures from 10 years ago of my grandparents at our wedding," she posted.
The former First Daughter also wrote "A reminder: Life is precious and goes by too fast." Jenna's grandmother recently passed away, and the loss has been hard on the family. She was the rock of the family, and Jenna was very close to her.
Barbara and George H.W. Bush were married for 76 years before she passed away last month at the age of 92. They met when both were only 16 years old, and stayed at each other's side since then. It's the kind of love story that Jenna hopes for.
Jenna and Henry met during her father's 2004 presidential campaign and became engaged in 2007. As mentioned before, the couple was married at the Bush family ranch outside Crawford, Texas. They have two daughters, Margaret "Mila" Laura, 5, and Poppy Louise, 2.
Please fill in your e-mail so we can share with you our top stories!