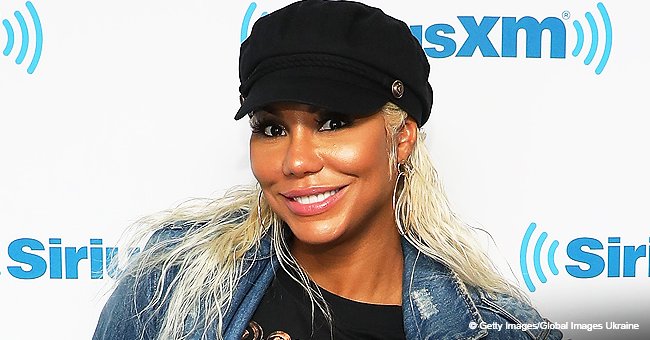 'Ain't NO CHECK, Ain't NO CHICKEN,' Tamar Braxton Reveals if She'll Do 'Celebrity Big Brother' Again

Tamar Braxton acquired a new sense of fame after her recent win in "Celebrity Big Brother." But when asked in her latest interview if she would do it all over again, she didn't hesitate with her response.
Fresh from her "Celebrity Big Brother" win, Tamar Braxton is on top of her game. And while she's basking in the glory of being the first Black woman to win in the US edition of the reality show, she reveals it's a different story if asked to do it all over again.
Tamar opened up in her latest interview with The Jasmine Brand about her experience in the show which saw her feuding with her competitors like Kandi Burruss and Dina Lohan. And while she proved victorious amid these setbacks, she confessed she would never do it all over again.
"God No! Ain't no check, ain't no chicken," she said.
ON THE LOHANS
Tamar hit a nerve when she voted to evict Dina during the finale of the show after she originally said she'd evict Kandi. This prompted Lindsay (or as the former child star later said, a person using her account) to accuse Tamar of being "deceptive and conniving" in a tweet. When asked to comment about the issue, Tamar replied,
"I don't even know. In the house, I did my best to look out for her [Dina], you know. Maybe she told her daughter a story for her. Why would your mama tell you something that's, she defended her mama and went all the way in."
ON HER RELATIONSHIP WITH HER EX-HUSBAND
Apart from discussing the Lohans, Tamar also opened up about her current relationship status with her ex-husband, Vince Herbert. She revealed she was happy she "got my friend back" while explaining why their marriage was doomed to fail.
"Vince and I don't work together anymore but I'm glad I got my friend back. Our relationship is great. Obviously, I never thought I'd be in this situation but I think it's for the best. I think there's hope that he's happy and definitely hope for my own happiness because us together and working together was completely toxic. Our marriage had absolutely no hope after a few years of working together, the way we was working together."
Braxton and Herbert were married for nine years until the former filed for divorce on October 17. The outspoken singer confessed shortly after they parted ways that she was "living a lie" during her marriage to her husband who was also her manager.
Despite divorce proceedings on the way, it has yet to be finalized. Last September, Braxton was warned by the court of possible dismissal of their case due to inactivity. This prompted the singer to serve new papers to Herbert who was unresponsive.
Braxton and Herbert managed to remain friends in spite of their differences. In fact, the 41-year-old came to Herbert's defense when someone fat shamed him online. She likewise recently admitted she was open to the possibility of having more children, with Herbert as the father. But that's only because she still has fertilized eggs from their marriage stored in a freezer. She has no intentions of obligating Herbert to raise them with her in the eventuality. Their son Logan is a result of IVF treatment.
ON HER CURRENT BOYFRIEND
Braxton's plans for more children may also have something to do with her budding relationship with her Nigerian boyfriend, the same man who she confessed, sleeps in the same bed with her and her son. The singer was slammed by fans after this admission but she finds nothing wrong with the arrangement and couldn't care less what Herbert thought about it. As far as she's concerned she thinks it's none of his business and would allow Herbert the same thing if tables were turned.
Please fill in your e-mail so we can share with you our top stories!