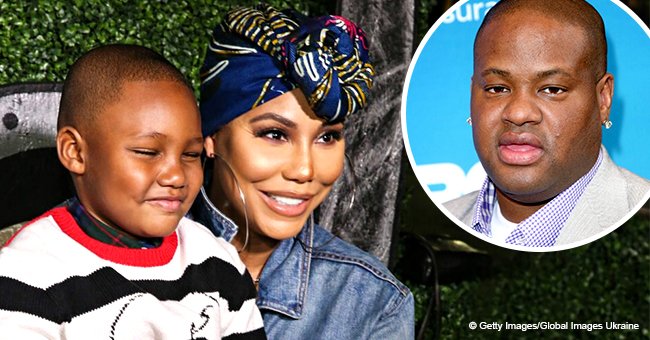 Tamar Braxton reveals she could possibly have more of ex-husband Vince Herbert's children
Tamar Braxton and her ex-husband Vince Herbert may have more babies together. This is a possibility Braxton recently revealed in her intention to have more children.
Tamar Braxton wants to have more children but the father may still be her ex-husband, Vince Herbert. This was the singer's latest declaration during a sit down with Raquel Harper of BET'S Raq Rants.
"I have three kids in the freezer still."
"I don't know how they're going to get here, but I really would like to have some more."
Braxton explained that she has infertility issues that make her incapable of conceiving a child naturally. In fact, her five-year-old son, Logan is a product of IVF.
"They just don't stick. Before I had Logan, I had infertility issues. I didn't know it. And so Logan is my miracle baby. I went through IVF and didn't have to use my embryos. I got pregnant right after."
Along with the fertilized egg that resulted to Logan, the 41-year-old froze several other embryos for later use. These embryos carry Herbert's sperm. Thus, she could still choose to have more babies using those embryos and with Herbert as the father.
Braxton revealed she has "three kids in the freezer still."
"Two boys and a girl. Vince is the daddy to all of them," she adds.
It's unclear whether Braxton would consider using her frozen eggs in the future considering she's seeing a Nigerian boyfriend, Yemi and admits to wanting to have "beautiful African children" with him. But what's clear is that the embryos are there, still viable and an option she could later take.
ON HER DIVORCE
Meanwhile, Braxton is determined to finalize her divorce with Herbert. In October, she pled to the judge to sign off on their case in a default judgment after Herbert failed to respond to her divorce petition.
Braxton first filed for divorce in October 2017 but due to lack of activity, the court warned her in August that their case would be dismissed. Braxton responded by serving papers to Herbert again but the latter was unresponsive.
Despite their differences, Braxton has maintained a good relationship with Herbert. She told Harper,
"You still have to be respectful, especially to keep the communication and friendship going. I'm not going to ever disrespect him. Ever."
It's may also be wise for Braxton to keep their communication lines open just in case she decides one day to use their embryos and will need Herbert's consent.
Please fill in your e-mail so we can share with you our top stories!