'Thank You... For Everything,' Miley Cyrus Mourns Death of 'The Voice' Alum in Heartfelt Tribute
After hearing that "The Voice" alum, Janice Freeman had passed away on Saturday, her former coach on the show, Miley Cyrus, took to social media to honor her. Cyrus posted a picture and reflected on Freeman's life.
The star simply thanked the former contestant in her heartfelt post.
It was revealed over the weekend that Janice Freeman, 33, had died from pneumonia and a blood clot that had traveled to her heart. Miley Cyrus, 26, paid tribute to the aspiring singer via an Instagram Stories post.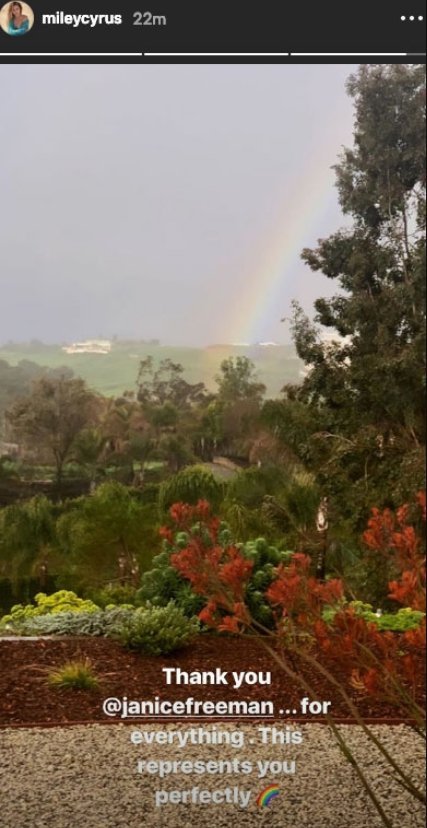 On top of a picture of a rainbow, Cyrus wrote: "Thank you @janicefreeman.. for everything. This represents you perfectly." Freeman died after she started feeling ill and couldn't breathe at her Pasadena, California, home.
With heavy hearts and sadness we share the news of Janice's passing . Details about services and in what ways the family can be supported to follow 🖤 pic.twitter.com/iNHiQ4Etnt

— Janice Freeman (@janice_freeman) March 3, 2019
Her husband, Dion, called 911 and performed CPR on her until paramedics arrived. The aspiring singer was pronounced dead at a local hospital at around 5:30 p.m.
Freeman had previously competed on Cyrus' team on "The Voice" during season 13. She had struggled with lupus, cervical cancer, and meningitis before entering the singing competition.
Just when my heart misses u so much I don't think I can stand it .... I remember something special.... nothing ends for us tonight .... it BEGINS! Our friendship is infinite! I love u to the moon, my STAR! J + M = 4EVR @janice_freeman pic.twitter.com/EFFIwAiZdF

— Miley Ray Cyrus (@MileyCyrus) November 29, 2017
Last year January, Freeman had revealed how close she and Cyrus had become after she was voted out. She shared how the famous singer had helped her and her family financially.
RIP beautiful talent and beautiful soul Janice Freeman.

— David Richard Thompson 🇱🇧🇲🇦🇺🇸🇨🇦 (@DavidWFPF) March 4, 2019
In a tweet Freeman said:
"Thank you ALL but she found us placement until we found permanent housing, gave me the deposit, covered me for 6 months so I can get on my feet! @MileyCyrus you are one of my closest friends and what you did for me and my family Im praying GOD gives you the desire of your heart!"
So very sorry for your loss

— gramma (@greyfeatherz) March 3, 2019
Taking to Instagram with an emotional video on the same day, Freeman thanked Cyrus again while crying. She is survived by her husband, her 12-year-old daughter Hannah, her mother Janice, and brothers and sisters.
During the live Top 11 eliminations on "The Voice's" season 13, Cyrus and Freeman paid tribute to Shania Twain with a performance. They were joined by Ashland Craft and Brooke Simpson, all wearing leopard print clothing for the performance.