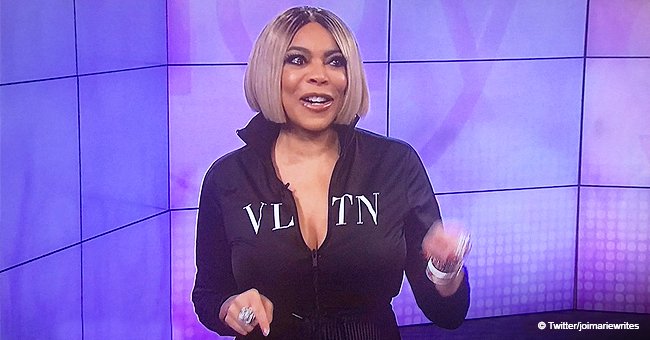 Wendy Williams Breaks Silence on Husband's Cheating Rumors after Long-Awaited Return to Her Show
Wendy Williams finally returned to her show after being away since Christmas break due to medical problems. She shut down the rumors surrounding her marriage, too.
As soon as the 54-year-old host appeared in front of the cameras, the audience went wild. She started saying that she was "doing better" and admitted that she was a "Hot Topic," one of the names of her segments.
Williams pointed out that she was supposed to be away only for two weeks. Unfortunately, her "thyroid issues" began and she took more time off to heal while in the company of her husband and son, Kevin Hunter Sr. and Kevin Jr.
TALKING ABOUT HER TIME OFF
After saying that she had a "plethora" of doctors because she is kind of hypochondriac, the host admitted that the Hunters spent a lot of family time throughout the process.
Williams then said that she had been taking her thyroid medicine, meditating, and going to the gym "seven days a week for two hours a day." The host joked saying that she didn't know how she looked in her outfit, "but mother has not gained a pound."
To finish her monologue, Williams said that she was sorry for taking "40 or 50" days to be back and set clear that she felt good and that it would not happen again.
Later in the show, Williams finally addressed the allegations surrounding her marriage in detail:
DIGGING INTO HER MARRIAGE
"I want to shout-out to my husband. I'm still wearing my ring. Believe me, you, when you've been with somebody for 28 years, married for 25 years … we know each other. He's my best friend, he's my lover. … I know what you've been seeing ... but hunty, let me show you who I fell in love with and who he fell in love with."
After saying so, many old photos of the couple were displayed on the screen, and Williams finally admitted to still being in love with Hunter Sr. and that her wedding ring would not go anywhere, "not in this lifetime."
NICK CANNON GIVING AN UPDATE ABOUT WILLIAMS
While Williams was recovering, several people hosted the "Wendy Williams Show," including Nick Cannon. During one of the episodes, the man revealed that he talked to the host and she and her family were doing good.
Apart from that, the man discussed William's health, admitting that things got emotional because he also has first-hand experience dealing with an autoimmune condition like Graves' disease, which is what Williams has.
"It's day by day, y'all. You know, you one day could be a strong day and the next day you can't even get out of bed," [sic] he added.
At the moment, Williams is healthy enough to be back in the show, and her relationship with her husband seems to be as good as it can be.
Please fill in your e-mail so we can share with you our top stories!