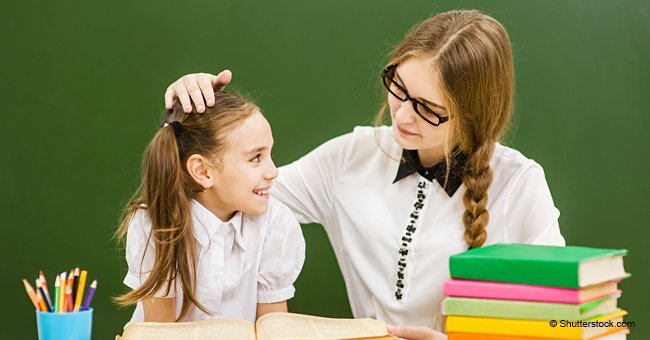 Touching 10-Year-Old Girl's Poem Goes Viral - Read It Backwards to Discover a Different Message

A ten-year-old student has gone viral after a copy of her poem about Dyslexia made it to the internet. Not only is the poem's message inspiring, but the creativity involved is mind-blowing as well.
Jane Broadis, a Year 6 teacher believed to work in Hertfordshire, England, was impressed by the artistic piece written by one of her students and couldn't help sharing with the world.
Taking to Twitter on February 27, Broadis shared an image of the poem, written in colored pens and only signed "AO."
"Today in Y6 we looked at poems that could be read forwards & backwards," Broadis announced on the social media platform. "I was stunned by this one written by one of my 10 year olds. Please share - I would love her work to be appreciated further afield. I wonder if it could even find a publisher?"
FIRST GLANCE
At first read, the poem, titled "DYSLEXIA," appears to be a defeated admission of a dyslexic individual who does not see anything good in themselves.
"I am stupid

Nobody would ever say

I have a talent for words

I was meant to be great

That is wrong

I am a failure

Nobody could ever convince me to think that

I can make it in life."
THE REAL MESSAGE
Read backward line-by-line, however, the three-stanza poem is an inspiring declaration of a dyslexic person convinced of their awesomeness.
"I can make it in life

Nobody could ever convince me to think that

I am a failure

That is wrong

I was meant to be great

I have a talent for words

Nobody would ever say

I am stupid."
INSPIRING THOUSANDS
In no time, Broadis' tweet went viral and has garnered over 52,000 retweets and 172,000 likes. Twitter users have also left thousands of comments, commending the intelligence of the yet-to-be-identified young poet.
While some of the comments were from people who have experience with dyslexia, others were from people and media platforms offering to publish the poem. Several users also praised Broadis who they say must be "a great teacher."
AUTISM & POETRY
Like AO, Benjamin Giroux is another young person inspiring millions with his gift of poetry. Giroux, who has Asperger's syndrome, shared a heartfelt poem about his condition in 2016, and three years later, social media users are still sharing it and declaring their love and support.
ANOTHER YOUNG POET GOES VIRAL
AO and Giroux's story brings to mind that of Izzy, a second grader at LaGrange Elementary in Louisville, whose tribute poem to her school's safety officer went viral last November.
"You are a police officer; I want you to know; I'm glad you are here; When I see you in the hall; You make me feel safe," Izzy's poem read in part.
The little girl's poem was highly significant because it came at a time when critics were faulting the decision to introduce safety officers to school halls, claiming it could instill fear in students.
Please fill in your e-mail so we can share with you our top stories!