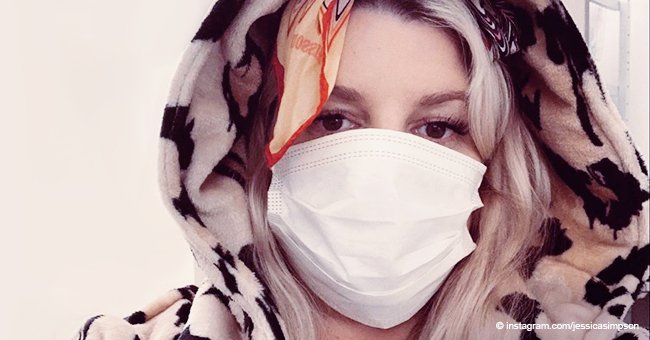 Pregnant Jessica Simpson Revealed 'Crazy Painful Journey' to Hospital 'Fourth Time in 2 Months'

Jessica Simpson finally left the hospital after being hospitalized for a week for bronchitis, this is the fourth time in two months.
The singer, who is pregnant with her third child, shared on Instagram that she was finally going back home after receiving treatment for her condition.
The singer Jessica Simpson has been personally responsible for informing her followers about the latest and most recent hospital visits she had, which led her to be moved urgently a week ago as a result of a series of complications derived from the Bronchitis that has dragged since the beginning of the year.
"After a week in the hospital for bronchitis (my fourth time in 2 months), I'm finally home! Coughing with Birdie has been a crazy painful journey. I am slowly getting healthier every day. Baby girl was monitored and is doing amazing!" the interpreter wrote on her Instagram profile.
The funniest of her pregnancy problems this month was having broken the toilet lid of her bathroom. "Warning ... Do not lean on the toilet when you're pregnant," Simpson posted on her Instagram account along with a hilarious picture of her holding the broken lid.
Simpson, who has gained a lot of weight in her third pregnancy, has been sharing some of the difficulties she has been experiencing with her fans on social media. The recent posting of a photo of her enormously swollen feet on Instagram raised much concern for her health.
The famously svelte Simpson, who always traipsed around in dizzy heels can now only wear slippers, and she appealed to her followers for advice on how to cope with her swollen legs and feet.
A few weeks ago, the music star openly revealed that she had gone through a difficult period marked by "anxiety" and, above all, by the problems of sciatica that she has been suffering at the same time and an untimely swelling of her feet: a series of setbacks that, however, did not prevent her from enjoying a revitalizing walk in the countryside.
"After a month of sciatica pain, followed by 3 weeks of Bronchitis, I figured since my feet fit in my sneaks today I needed to walk out a lot of anxiety!!", published the music star on the same platform.
Please fill in your e-mail so we can share with you our top stories!