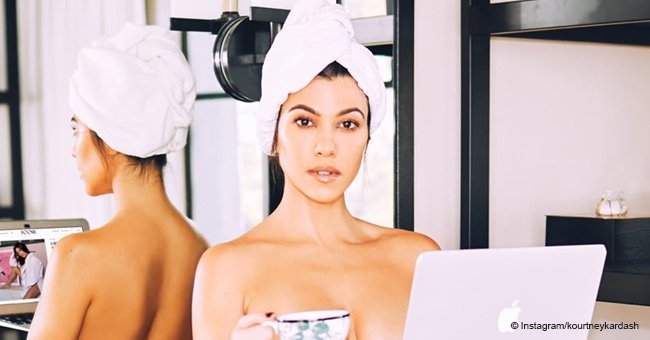 Kourtney Kardashian Shares Photo Wearing Only a Towel around Her Head and Fans Are Intrigued
The eldest Kardashian sister has fans curious about her latest post on Instagram which left little to the imagination.
As the more conservative among her sisters, Kourtney posted a racy photo most wouldn't expect for her.
Sitting on a bathroom vanity, Kourtney appeared to be in work mode while surrounded by plush towels and other products. Teacup in one hand and a laptop in the other covered up her modesty with her hair wrapped in a towel.
The Kardashian captioned the picture, "C O M I N G. S O O N," as a teaser for her new project, Poosh. Derived from her daughter Penelope's nickname, Poosh's official Instagram page only got fans more curious with, "This isn't a monologue, it's a dialogue."
No details about Kourtney's upcoming venture are available yet and she encouraged fans to sign up on the Poosh website to get more information.
Since the cryptic post in her birthday suit, over 2 million fans following the page wonders what the new brand is all about and what her naked picture has to do with it.
While many can't wait to find out what Poosh is all about, many other followers on Instagram got stuck on Kourtney's nakedness as one follower said in admiration of her toned looking body:
"Dam court I wanna look as good as u during my 40's ???? don't mind the haters."
Other followers were not impressed by the naked shot, as one fan wrote:
"This is sad why do these ladies think it's ok to pose naked and post it to the world to see, this is how you want to empower and inspire young women and girls. All these influencers on social media think that by showing their naked bodies is the way to get noticed. ?"
Some followers are hoping her company has something to do with interior decoration and commented:
"If its something about decorating then soon we will get knowledge from a queen of decorating!"
In the meantime, fans will have to make do with speculation until Kourtney reveals more about Poosh. Her sister Kim often reveals bits of herself in her birthday suit as well.
Early in February Kim posed naked for a photo shoot with Love Magazine, and racy would be a bit of an understatement. Shot by Steven Klein, Kim posed in a motel room and shared some of the pictures on Instagram with the caption:
"Locked inside a bedroom at motel 6 blasting Madonna Erotica on repeat and rolling around in a custom Prada bodysuit at 2 am @stevenkleinstudio @TheLoveMagazine."
But it seems that Kourtney felt a bit nostalgic recently when she posted some throwback pictures of her grandparents and her late father, whose birthday Kourtney celebrated on February 22.