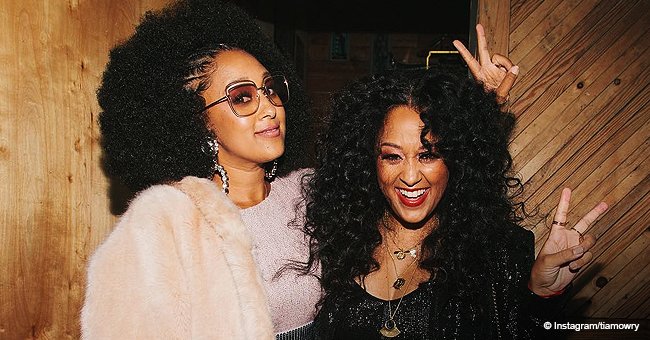 'Hers Tasted like Vanilla Latte,' Tamera Mowry Talks Drinking Sister Tia's Breast Milk While Sick

Tamera Mowry opens up to her co-hosts about drinking her sister's breast milk and loving it. She says it "tasted like vanilla latte" and reveals the real reason why she drank it.
In many occasions, Tamera Mowry-Housley can count on her twin sister Tia Mowry-Hardrict to be her source of comfort. But more recently, she was in a situation that called for a different source of comfort from her sister – her breast milk.
On the March 4 episode of "The Real," Tamera's co-hosts asked her about her experience drinking her sister's breast milk. Tia previously shared on Instagram that while Tamera was nursing an illness, she sought help from her, a nursing mother.
Tamera learned through an article her twin sent her that breast milk has healing properties even for adults. This encouraged her to partake of Tia's milk to feel better. Tia shared Tamera's reaction to her followers, revealing how much the 40-year-old host loved her milk.
"Oh my gosh. Tia. This is amazing. Your breast milk is the best milk I've ever tried in my life. Oh my god," Tamera gushes in the clip.
Naturally, Tamera's co-hosts were curious about the whole experience when she returned to the show after recovering from her sickness. Tamera revealed she drank half a cup of the breast milk and it was "freaking amazing!"
"I was surprised, It was lovely!" she said and added that it even tasted better than her own breast milk. She said hers tasted like Chai tea but Tia's "tasted like vanilla latte." Tamera even said it was so "divine" that she wanted to use it as her coffee creamer.
As for how her sister's milk assisted in her healing, Tamera confessed it did "help her a little" but predicts it would have helped her even further if she drank more.
Tamera was down with viral pneumonia after a bout with bronchitis and the flu. She was indisposed for two weeks prompting her to take desperate measures (aka drinking her sister's breast milk). Due to her absence on "The Real," Loni Love updated fans of her condition. She revealed her co-host needed a lot of rest. Meanwhile, Tamera herself sent out a message saying it was "the most challenging thing I've been through," but hung on to hope and prayers for her healing.
Please fill in your e-mail so we can share with you our top stories!