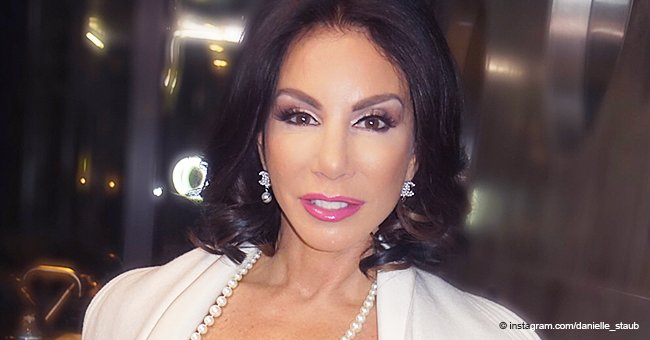 56-Year-Old TV Star Danielle Staub Splits from Fiancé Days after Announcing Her Engagement

Danielle Staub went through yet another engagement breakup just days after she announced the big news to the public.
The reality star from "The Real Housewives of New Jersey" began to date businessman Oliver Maier just about six weeks ago.
Before long, the two had given friends a wedding date. Two days prior, the couple called a delay on the ceremony. Now, they have reportedly broken up.
On Thursday, February 28, Staub spoke to Us Weekly about her big plans. The engagement with Maier was her 21st but the 56-year-old seemed to feel it would be her last.
She said at the time:
"I am really looking forward to making a new life for myself with Oliver and putting my life on a positive and productive path. This is a new beginning for me and I am excited to see all that it brings."
One week before the engagement announcement, Staub had finalized her divorce from Marty Caffrey. She was with him for just four months before the couple split in September 2018.
Back then, Staub's media representative said that "Danielle is extremely relieved this toxic situation is coming to a close and looks forward to getting her life back."
Staub spoke on the "Wendy Williams" show following the decision by the two to break up. At the time she simply said, "No ring anymore, it's empty." She also pointed to issues like alcohol and her own personal issues that led to the marriage coming to an end.
As regards her newest split, TMZ reported that Staub got "push back" by her two girls and chose to slow things down on Saturday. However, the two were seen shopping for wedding bands.
The former couple planned on exchanging vows in New York City on Monday. Staub said that Maier who is German and French proposed just last week while the couple was visiting St. Barth.
The reality personality's first marriage was to Kevin Maher from 1986 to 1987. She later wed Thomas Staub in 1993 and was with him until 2007. The pair had daughters Christine, 25, and Jillian, 20.
Her latest husband Caffrey spoke out about Staub's most recent breakup in a statement to Us Weekly.
He said:
"I wish, and will always wish, [for] Danielle to achieve true love and happiness. I fell in love with her, remember? And although I divorced her last August, this still troubles me."
Exposing his initial doubts about the relationship, he added:
"I had early suspicions and doubts about the sincerity about this St. Barts nonsense. Oliver and Danielle would serve themselves well by putting their feet on the ground and staying there forever. I doubt either can."
Caffrey also addressed rumors that Maier was still dating Gina Curko, another star of the reality show when he got involved with Staub. He called the unconfirmed move "an absolute disgrace."
Maier responded to the accusations:
"I ended my relationship with Gina because it was not working. My current relationship with Danielle did not have anything to do with that decision."
Another controversial matter that arose between the couple was Maier's claim to being the Duke of Provenance. A source clarified that the title is obsolete since King Louis XI of France joined the royal domain.
In one of the recent episodes of the "Real Housewives of New Jersey," Staub got into a fight with Margaret Josephs. After insulting her motherly abilities, Josephs retaliated by calling Staub an "old dog with no new tricks."
Before long, other women jumped in and the security guards were called in to separate the group of women. Ultimately, most of them agreed that bringing children into their conflict was totally unacceptable
We hope that Staub is able to resolve both her romantic conflict and that which she has between the other women on the show. We look forward to seeing her in a happy long-lasting marriage.
Please fill in your e-mail so we can share with you our top stories!