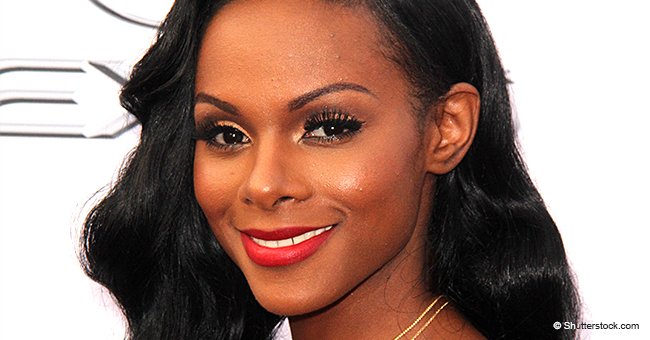 Tika Sumpter Melted Hearts with Pic of Her Fiancé and Their Daughter Doing the Dishes Together
Despite trolls having one thing or the other to say about her relationship, Tika Sumpter continues to share adorable family moments with fans on Instagram. In a recent one, her fiancé and daughter are co-workers in the kitchen.
The last Valentine's Day saw many celebrities showing off their loved ones on social media and Sumpter was no different.
The "Nobody's Fool" actress delighted fans with a photo of her fiancé/fellow actor Nick James and their two-year-old daughter Ella-Loren as the pair washed dishes at the sink.
James was rinsing off a plate in his white t-shirt and black pants while Ella, rocking grey sweatpants and a striped sweater, seemed interested in filling a can with water.
"Love you both to pieces. Regardless of the day," Sumpter, 38, professed in the caption.
FANS IN LOVE
But the actress was not the only one in love with the perfectly-captured father-daughter moment. Many of her followers couldn't help gushing over the duo in the comment section.
"Awww!! The little one is helping! Too adorable!" ~ @rx_lxxv
"Happy Valentine's Day to you and your fam, you 2 are really great actors" ~ @lexiwillington8385
"Wait. This is NOT the baby you were just preggers with. Why are they growing so fast?!?! (My almost 2 yo included)." ~ @nelliewright_
"Happy Valentine's Day to you and your beautiful Family!" ~ @sharon_anna
FIRST COMES LOVE
Sumpter and James welcomed Ella in October of 2016. The couple met while working on the set of OWN's "Haves and Have Nots" but kept their relationship under wraps for the longest time.
Sumpter finally revealed her baby daddy's identity in a 2017 Fathers' day shout-out, after earlier disclosing that he proposed on Christmas Day 2016.
During an appearance on "The Real," she described James sweet proposal:
"He did all of these amazing things [Christmas morning]. I went on a little hunt in the house...And then he had a letter behind Ella, and he's like, 'Ella has something to say to you.' And it was just this letter of beauty. And then he proposed. It was just simple and just awesome."
KEEPING THINGS SECRET
In an interview before Ella's birth, the "Southside With You" star further dished on why she chose to keep her pregnancy secret until she was almost due, and it has a lot to do with James's identity.
"I didn't want to hear, 'Who's the dad? Are you with the dad?' Social media can be harsh, and I'm a mama bear, protective of my family," Sumpter said. "So that's why I waited to tell people, including some friends. My friends weren't mad at me. They said, 'You did it the way you wanted to do it. You're an inspiration.'"
ONLINE BULLIES AT WORK
Sumpter and James were right to maintain a high level of privacy with their relationship because, once it became known that James is white, online trolls gave them no rest.
Last October, a Twitter user shared the photo of a young, white boy with what looked like acne on his face and claimed it was "Sumpter's husband." The tweet blew up quickly, attracting other black men who joined in criticizing the actress's taste in men as well as other black women who date white men.
DEFENDING HER LOVE
It turned out the mean troll was wrong, but instead of going the same route, Sumpter chose to stay classy in her response. She simply replied with a rare photo of her snuggling with the actual Nick James and wrote:
"Nope. Fixed it. PS. The kid in pic looks super sweet. Do better."
After another social media user suggested that her being with James was a betrayal, Sumpter shot back:
"Betray? Never. I'm just a girl who met a boy and fell in love. I hope you find someone and do exactly that."
FIGHTING BACK
Sumpter has mostly been gracious about the negative remarks thrown her way concerning her relationship with James, but in recent times, the mom-of-one has also been delivering subtle warnings.
In a video for MadameNoire towards the end of last year, she warned: "Don't come after my dude like that." The actress echoed her words during an appearance on "The Wendy Williams Show" while talking about "haters:"
"I fell in love with who I fell in love with. And that's the end of the story. But you're not going to play him and you're not going to play me. I may be cute and sweet but I will clap back."
Sumpter sounds like she'll deliver on her promise, but in the meantime, she's melting the hearts of fans and well-wishers with oh-so-adorable pictures of her lovely family.
Please fill in your e-mail so we can share with you our top stories!