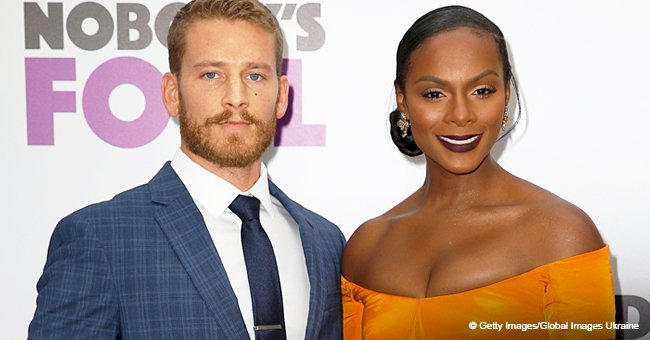 Tika Sumpter stuns in busty yellow dress in pic with partner after interracial marriage backlash

Only last month, Tika Sumpter was being trolled over her choice of a partner, but the Hollywood actress does not seem fazed by it all. She recently posed with her fiancé, Nick James, who had only glowing words for his lady.
Looking breathtaking in a bright orange gown, Sumpter cozied up to her man for a cute photo. Her off-the-shoulder outfit enhanced a busty display that the star complimented with full makeup and a matching orange clutch.
James, also an actor, looked equally dashing in a striped blue suit complete with a matching tie. The "Haves and the Have Nots" star was full of praise for his wife, whose latest movie, "Nobody's Fool," had just premiered.
James wrote:
"GO SEE #nobodysfool @nobodysfool TOMORROW! Ask @tikasumpter you have to earn my laughs and I felt bad for the gentleman infront of me@in the theatre because I was loud laughing! My girl PLAYS her role!"
Sumpter, 38, played the lead role in the Tyler Perry-directed film, and in an exclusive interview with MEFeater, the mom-of-one dished details on everything that drew her to the project.
THE ATTRACTION WITH "NOBODY'S FOOL"
The first thing, for her, is the script. Sumpter falls in love with scripts first and says: "It's always the script because that has to be good."
The star-studded cast was also something that helped Sumpter decide she was going to be in the romantic comedy. And who would blame her? A combination of Whoopi Goldberg, Tiffany Haddish, Omari Hardwick, and Amber Riley is enough to make anyone swoon.
Meanwhile, James and Sumpter's movie premiere date comes about a month after the actress came under fire again for dating a white man.
NOISE ABOUT HER INTERRACIAL RELATIONSHIP... AGAIN
It started when a Twitter troll posted a photo of a white boy who appeared to have acne and claimed it was Sumpter's fiancé. Other male Twitter users decided to make a joke out of it also, criticizing her for her taste in men, and the that of other Black women who date white men.
The "Southside With You" actress chose the classy route, and instead of trading words with online bullies, simply corrected their misconception by posting a rare photo of her snuggling with the actual Nick James. Sumpter shot back in the caption:
"Nope. Fixed it. PS. The kid in pic looks super sweet. Do better."
She let anyone who had an issue with her relationship know that "I'm just a girl who met a boy and fell in love" and hoped they find the same too.
IT HAPPENED TWO YEARS AGO
Before then, Sumpter was also called out in 2016 after she finally revealed James' identity as the father of her child. Social media users made a big deal out of her partner being white, and one person even said:
"I'm lowkey blowed tika sumpter having a baby for a white dude, all that melanin down the drain."
Thankfully, Sumpter has a thick skin. She confessed earlier that her decision to hide James' identity and her pregnancy was due to her not wanting critical judgment from the public, but since she's been open with her relationship, there's been no going back.
The couple, who got engaged in December 2016, now seems to be more comfortable with professing their love for each other on social media.
James and Sumpter welcomed Ella-Loren on October 8, 2016.
Please fill in your e-mail so we can share with you our top stories!