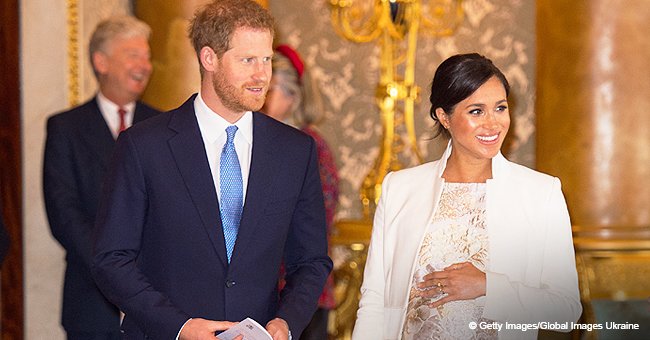 Meghan Markle Looks Stunning in Golden Dress and White Coat at Queen's Party for Prince Charles
Meghan Markle glowed in a silver and gold brocade dress she wore to a reception Queen Elizabeth hosted for Prince Charles. The Duchess who's due to deliver her child in weeks proved she's still a stunner despite her pregnancy.
She's nearing her due date and yet Meghan Markle stunned in her latest appearance. She attended Queen Elizabeth's party glowing in silver and gold.
Meghan looked fresh as ever as she waltzed into Buckingham Palace with Prince Harry to be part of the late-morning reception hosted by the Queen. The affair was held to celebrate the 50th anniversary of the Investiture of The Prince of Wales.
The Duchess glammed up wearing an embossed metallic dress in silver and gold. She it paired with a lovely white coat boasting of a high collar. Her heavily pregnant belly showed despite the stiff material of her brocade dress. She carried a brown clutch and finished off her look with a pair of Paul Andrew heels. Her hair was loosely tied in a bun.
The reception was a nod to Prince Charles' fifty years of service to Wales as well as the United Kingdom and the Commonwealth. He was only 9 years old when he was given the title of Prince of Wales. But he only took on the role after his Investiture in 1969.
The affair was also attended by his royal circle – his wife, Camilla, Duchess of Cornwall, his sister, Princess Anne and his son Prince William and wife Duchess Kate. Incidentally, this is the first time Meghan and Kate are seen together at an event since the Christmas Day service at Sandringham. Rumors swirled that there was friction between the two Duchesses. However, it is believed that their equally busy schedules have also prevented them from seeing each other more often than expected.
Meanwhile, the man of the hour, Prince Charles, on the celebration of his 70th birthday back in November, was the subject of a toast his mother made. The Queen gushed about his devotion to the conservation of the arts and his charities. "A dedicated and respected heir to the throne to stand comparison with any in history," she said. "And a wonderful father," she added.
By the time the Prince succeeds his 92-year-old mother on the throne, Charles will hold the record of the oldest-ever king at the start of his reign. Meanwhile, Queen Elizabeth is now the longest reigning monarch in British history.
Please fill in your e-mail so we can share with you our top stories!