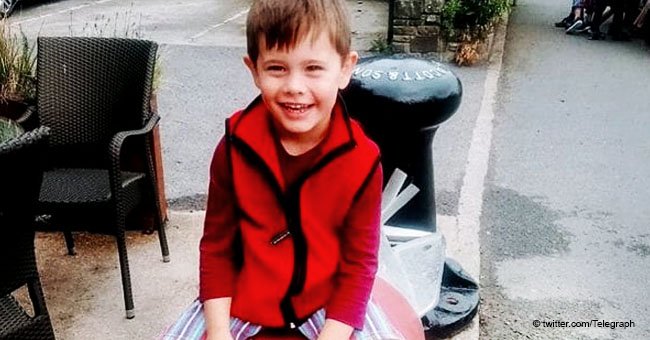 4,855 People Waited for Hours in the Rain to Donate Stem Cells to Boy with Rare Cancer
Thousands fall in line in the rain to get tested and register as possible stem cell donors for Oscar who has an aggressive form of leukemia.
Oscar Saxelby-Lee is only 5-years-old, and he only has three months to find a stem-cell donor to save him. His parents Olivia and Jamie Lee launched a campaign called "Hand in Hand for Oscar" in a plea to find a match for their son's treatment.
They shared their story which began in December last year with Oscar being diagnosed with T-cell Acute Lymphoblastic Leukemia. They immediately started chemotherapy at the Birmingham Children's Hospital. But last month's assessment came back with more sad news, his parents were told that Oscar needed to have a stem cell transplant as his last chance to fight his aggressive blood cancer.
What happened next was a record-breaking response to help the little boy. The Pitmaston Primary School encouraged people to get swabbed and tested over the weekend to help find a donor to match their pupil, Oscar.
The line of over 4,800 volunteers was long, and the potential donors stood in the rain for hours. But it was an inspiring community strong effort for everyone there. They were also able to raise £3,800 as people driving by gave donations for Oscar's treatment. The school's headteacher, Kate Wilcock said,
"People were literally stopping on Malvern Road and throwing notes into our buckets and driving off, which is incredible."
The nightmare is not over yet, but Oscar's fighting spirit remains strong, and his parents rely on it to keep going. His mom, Olivia, said,
"We felt like we could not see the light at the end of the tunnel, but when looking at Oscar's cheeky smile, bravery, and determination, we managed to pull our strength together again."
Another 5-year-old boy from Seattle, Washington is facing a battle of his own. Solomon Lutui was diagnosed with a desmoplastic small round cell tumor in his abdomen. He soon grew tired of his toys and games during his long confinement at Seattle Children's Hospital for chemotherapy. It was then that he discovered the "King of Pop" Michael Jackson. He soon learned all the dance moves and his mother, Leni says,
"It's as if everything he went through, he forgot about it and just danced to the music once we started playing Michael's music."
For the parents of Oscar and Solomon, and for the many other battling the illness, it is the gift of finding moments of happiness through their journey that helps them soldier on.
Please fill in your e-mail so we can share with you our top stories!