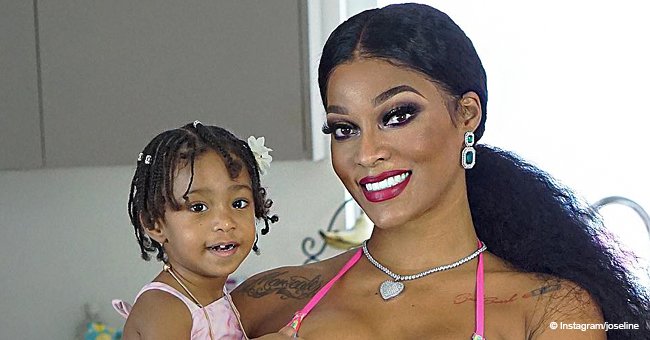 Joseline Hernandez Dragged after Dressing up Daughter Bonnie Bella in a Dress for Gymnastics Class

Joseline Hernandez, also known as the "Puerto Rican Princess," is facing backlash again due to the outfit she chose for her daughter for a gymnastics class.
The "Love & Hip Hop: Atlanta" star was in a long relationship with TV personality Stevie J. As a result of their love, they had Bonnie Bella, a beautiful girl that has attracted a lot of attention on social media.
Unfortunately, most of that attention is negative due to the clothes her mother often chooses for her. Things were not different in a recent slideshow that Joseline shared on Instagram.
In the first photo, Bonnie appeared wearing a beautiful white dress holding a horizontal bar in what seemed to be a gymnastics class. The second part of the post was a short clip showing Bonnie walking away from the bar. For the final image, the two-year-old girl appeared on a balance beam.
Even though the child looked beautiful in her dress, several people took to the comment section to complain about the wardrobe choice as it was not what children should wear for a gymnastics class.
"She really got the child in a dress to do gymnastics bro," one user commented.
"Put little cutie in some tights," shared a second follower.
"Girl you need help when it comes to dressing your daughter up a lot of help," pointed out another person.
GETTING MORE BACKLASH
Unfortunately, it is not the first time that Joseline gets negative comments. Recently, she posted a photo of Bonnie next to a tree wearing silver shoes, pink socks, a long navy skirt, a striped navy and pink shirt, a red sweater tied around her neck, and a big red bow.
While several people considered there was nothing wrong about that outfit, others wrote in the comments that the girl "always look a mess." Some complained because Joseline has beautiful outfits most of the times, but Bonnie looked like "from a whole different era."
ASKING HER TO LEARN HOW TO DRESS HER CHILD
Apart from that, Joseline shared another pic showing her daughter in pink shoes, yellow pants, a pink tutu, a blue sweater, and a pink beanie hat with pompoms while holding a violin in front of her.
Again, netizens took to the comment section to say that the girl looked like an old homeless person, blaming Joseline for the clothes she wears and asking her to learn how to dress her daughter properly.
At the moment, Joseline is taking a break from the entertainment industry and is focusing her time of her daughter. Stevie J, on the other hand, keeps being one of the stars in "Love & Hip Hop: Atlanta."
Apart from that, he has appeared in the drama TV series "Star" portraying DJ Dash.
Please fill in your e-mail so we can share with you our top stories!