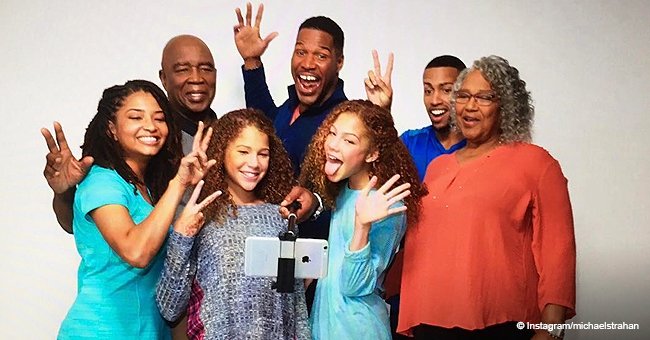 Michael Strahan Shares Heartwarming Pic with His 4 Beautiful Children, Mom and Dad
Michael Strahan, the former NFL player and current TV personality, took to Instagram to share an adorable and funny photo posing with his four children and parents.
The "Good Morning America" contributor has had a very successful career from a very young age. Apart from being a talented football player who won seven Pro Bowls and a Super Bowl, he managed to transition to the TV without difficulties.
At the moment, he is one of the hosts of the talk show "Strahan and Sara," which serves as the third hour of "GMA." Apart from his great professional life, Michael has proven to have a very good relationship with his family, too.
Recently, the man shared a photo posing in front of a white background next to his father, Gene Willie, and his son, Michael Jr. The TV personality was holding a selfie stick and flashing his big smile at the camera.
His twin daughters, Isabella and Sophia, were in front of their father looking at the phone. Next to them, sister Tanita and grandmother Louise were also posing for the pic.
As soon as the man shared that post, his followers took to the comment section to share their thoughts.
"Beautiful family! Oh my, the girls are gorgeous, Michael," one user commented.
"A family is God's greatest Masterpiece and your family is a beautiful blessing," pointed out a second follower.
"Family is everything, Michael. You have a wonderful one," shared another person.
WISHING DORIAN A HAPPY 18 BIRTHDAY
The only person missing in that pic was Dorian, the 18-year-old boy who Michael has raised as if he was his father. Recently, the man shared a photo of him on Instagram honoring his 18th birthday.
In the image on the left, Dorian appeared in what seemed to be a lake holding onto a platform and smiling at the camera. The pic on the right had a black-and-white filter, and it showed the young man wearing Nike shoes, pants, and a hoodie while looking up to the sky.
For the caption, Michael wrote: "Happy 18th Birthday, Dorian! Enjoy your day and LIVE IT UP! Love you," followed by a red heart emoji.
DIGGING INTO HIS RELATIONSHIP WITH DORIAN
Michael is not Dorian's biological father as he is Wanda Hutchins' son from another marriage. However, the media celebrity has admitted several times that he considers him his child.
"I treat him and take care of him as if he were my son because it's very important to me that Michael Junior and Tanita [the children he had with Wanda] have the confidence of knowing that their mother is fine, their brother is fine, everybody is well taken care of," wrote Michael in his book "Wake Up Happy."
MICHAEL AND SARA SWAPPING LIVES
The "GMA" star recently showed off his parenting skills when he took on babysitting duties for his co-host Sara Haines in an episode of "Strahan and Sara."
Even though everything seemed calm and fine at the beginning, things took a funny turn and proved that taking care of children is no easy task.
Please fill in your e-mail so we can share with you our top stories!