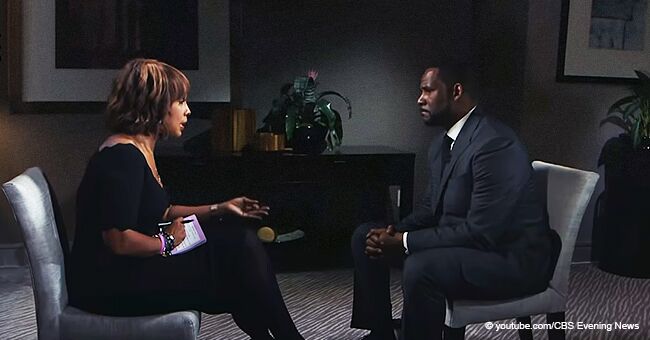 R. Kelly Blasts Parents for Reportedly 'Selling' Their Daughters to Him
R.Kelly lashed out at his alleged victims' parents for "selling" their daughters to him.
R. Kelly gave his first interview after his arrest on charges of aggravated sexual abuse to "CBS This Morning" co-host Gayle King.
In the course of the conversation which addressed his charges, the longstanding accusations against him, and the allegations that R Kelly is running a sex cult saw the R&B singer lose control.
"Thirty years of my career! Y'all trying to kill me! This is not about music! I'm trying to have a relationship with my kids and I can't do it! You just don't want to believe the truth! You don't want to believe it!"
TEARS AND RAGE ON R KELLY'S INTERVIEW WITH GAYLE KING
R Kelly's meltdown came at a point when King pressed him on the issue of his alleged sexual involvement with underage girls, which he vehemently denied.
Kelly stated again and again that he had never had relations with underage girls, and had never held anyone against their will. The singer wept as he denied the accusation, and at one point lept to his feet.
More explosive revelations are expected since CBS will be airing the complete 80-minute interview on March 7, 2019.
GAYLE KING ACCUSED R KELLY OF "PLAYING THE VICTIM"
Kelly gesticulated wildly and ranted at the camera as he stood over a serene King. Eventually, the cameras were shut down until the singer calmed down. The high point of the interview came when King questioned Kelly about Jocelyn Savage and Azriel Clary - two young women who live with him.
IN A RELATIONSHIP WITH 2 YOUNG WOMEN HE MET AS TEENS
Kelly claims that both these young women are his girlfriends and that their parents had deliberately put their daughters in his way:
"What kind of father, what kind of mother would sell their daughter to a man?"
PARENTS ALLEGE R KELLY HAD SEX WITH GIRLS AS TEENS
The parents of the two girls claim that Kelly has brainwashed them and keeps them in sexual servitude in his home. Both girls say that they are in love with Kelly, and believe that he loves them.
One of the fathers has revealed that he has evidence that Kelly had sex with his daughter when she was underage - which Kelly once again denies, although he admits he met her when she was 17.
More explosive revelations are expected since CBS will be airing the complete 80-minute interview on March 7, 2019.
R KELLY'S TURBULENT PAST WITH UNDERAGE GIRLS
R. Kelly surrendered to authorities after being charged with 10 counts of aggravated sexual assault to four victims, 3 of whom were underage at the time of the attacks.
Kelly has been accused of child pornography in 2004 and had been acquitted on all charges. None the less, rumors of his involvement with minors continued.
In 2019, the documentary "Surviving R Kelly" set the spark to that would ignite a bonfire of accusations against the singer, and has led to his current charges.
In a related story, R. Kelly broke into tears while maintaining innocence during his first interview after being indicted on sexual abuse charges.
Please fill in your e-mail so we can share with you our top stories!