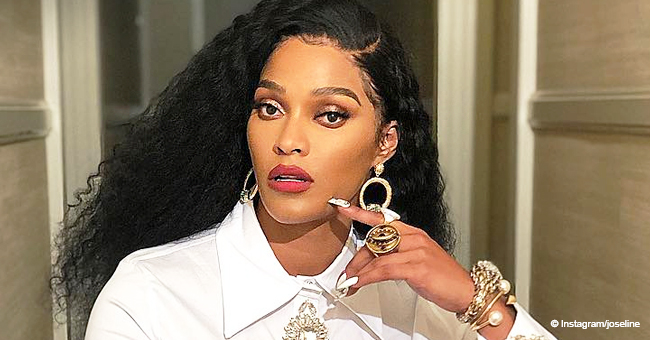 'Someone Tell Her to Keep an Eye on Him,' Joseline Hernandez Warns Faith Evans about Stevie J

Joseline Hernandez isn't done warning Stevie J's wife about the perils of being attached to him. She recently released a new bombshell revealing he still has the hots for her butt and tells his wife Faith Evans to "keep an eye on him."
It's been months since we've heard something come out of Joseline Hernandez in relation to the father of her child, Stevie J. The last time she did was back in July after hearing about his surprise Vegas wedding to Faith Evans.
In a series of social media messages, Joseline reacted to the news by exposing the father of her child's true colors. First, she shared a screenshot of an exchange of private messages between them which occurred just a month before he wed. It revealed Stevie proposed marriage to her and she turned him down.
"Happy honeymoon," she wrote to caption the screenshot.
Shortly after, she called out Stevie for his failure to meet his obligations to their child, Bonnie Bella. She tweeted,
"When they come for you always go to them. Plus pay me my child support bum."
In the months that followed, Joseline kept mum about the newlyweds but that changed recently when she stirred up new controversy by publicly warning Faith. She took to the comments section of a romantic photo of the couple and wrote,
"So sweet of my baby daddy and his wife. Someone tell her to keep an eye on him when he calls me to see my butt hole in the am." ⠀
If what Joseline is saying is true, then Stevie has still been communicating with her but not in the way that Faith would like. And the Puerto Rican star is doing Faith a good deed by telling her to watch over her man.
It's clear Joseline wants nothing to do with her ex. She's even asking the help of his wife to keep him away. Moreover, she has no intentions of letting their daughter near him. That was clear recently when she posted a photo of herself and Bonnie and wrote "I don't need no daddy." This prompted Stevie's older daughter, Savannah to slam the star for keeping her father away from his child. Joseline has yet to respond to her statements.
Please fill in your e-mail so we can share with you our top stories!