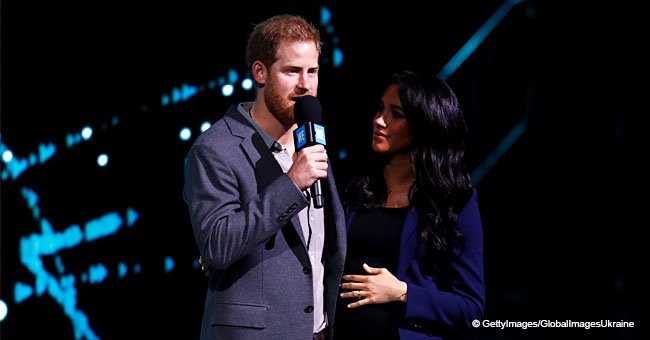 Meghan Markle Wars $850 'Mommy' Necklace, and It Might Be a Pricey Gift from Her Baby Shower
Eagle-eyed fans saw Meghan Markle sporting new jewelry when she appeared with Prince Harry at WE Day.
This year WE Day took place at London's SSE Arena on March 6, and those in attendance were delighted when Meghan made a surprise appearance. Prince Harry previously attended the event in Toronto in 2017, and this time Meghan joined him.
The Duke of Sussex delivered a powerful speech to the young audience and drew inspiration from one of Meghan's favorite Martin Luther King Jr. quotes:
"Darkness cannot drive out darkness; only light can do that. Hate cannot drive out hate; only love can do that."
"I'm now going to try and drag my wife on stage," Prince Harry said and helped Meghan up the stairs. Once he had Meghan by his side, he continued, "Guys, I am with you, and we are with you. Get to work," as he put his arm around Meghan.
Fans couldn't help but notice Meghan's necklace. For the event, the Duchess of Sussex wore black maternity jeans, a black crew-necked top with a navy blazer. Identified by the royal style blog, Meghan's Mirror, the necklace is a Jennifer Meyer creation. Handcrafted in 18-karat yellow gold this "Mommy" necklace retails for US$850.00.
Although some have said that the necklace, in fact, reads "Mummy" and can therefore not be one of Jennifer Meyer's creations:
Rumored to be a gift from her baby shower, Meghan got spotted wearing the same necklace the day she left New York City to return to London after her baby shower.
Meghan left The Mark Hotel in Manhattan dressed in a zip-up sweatshirt with her newly acquired necklace showing, leggings, and Adidas sneakers.
Serena Williams is said to have hosted the grand baby shower in the Penthouse suite of The Mark Hotel, home to renowned culinary expert Jean-Georges Vongerichten.
Jessica Mulroney, Amal Clooney, and Gayle King were all among some of her close friends in attendance for the special day. And it seems all her friends got a special gift as well, as a dozen luxury Away carry-on suitcases got delivered to the hotel on the Wednesday morning before the baby shower.
Numerous floral arrangements, all pink themed along with a cotton candy machine also got wheeled into the hotel ahead of the shower.
It appears that the famed harpist Erin Hill may also have played a piece or two for the celebration as she also arrived with her harp shortly before the baby shower got started.
Fans carefully watched all the deliveries made to the Hotel before Meghan's baby shower, and many believe it revealed the gender of her baby.
Please fill in your e-mail so we can share with you our top stories!