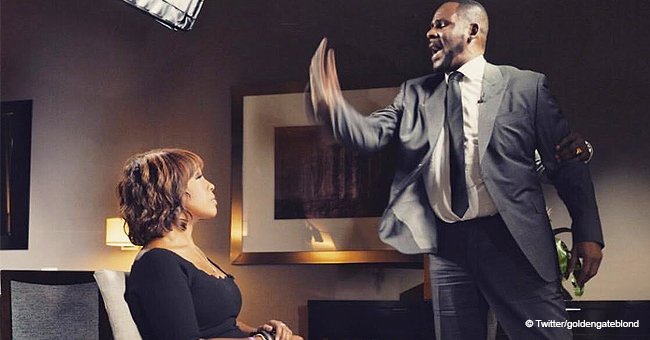 Gayle King Commended for Staying Cool, Calm & Collected as R. Kelly Threw Tantrum during Interview

Gayle King is being commended by people from all over the world for the way she remained composed during an interview with R. Kelly which saw the R&B star throwing a tantrum.
Gayle King was tasked to interview R. Kelly during his first interview since being arrested, and it wasn't an easy interview to conduct. In fact, she ended up seeing an angry R. Kelly, who was recently charged with ten counts of aggravated criminal sexual abuse on four victims, three of whom were minors during the assault.
On Wednesday, the emotion-filled interview aired, and many were shocked to see Kelly going off on Gayle, who remained cool and collected while he aired his frustrations.
The R&B singer grew more and more upset as the interview progressed, even looking directly into the camera, screaming, and standing in front of King, who remained seated, calm, and cool. Throughout the entire thing, Kelly angrily lashed out on the host and denied all claims against him. At one point, he yelled:
"Stop it! Y'all quit playing! I didn't do this stuff. This is not me! I'm fighting for my [expletive] life! Y'all killing me with this [expletive]! I gave you 30 years of my [expletive] career!"
Kelly blamed social media for the allegations against him, which is the same avenue that praised Gayle for her composure and professionalism during such an overwhelming interview.
While people commend King for staying calm throughout the interview, her composure could be attributed to the number of challenging moments in her life, including the time she found her husband in bed with a friend. It is devastating moments such as these that have made it easier for the journalist to go through difficult times, as it was there that she realized the importance of strength and courage.
Please fill in your e-mail so we can share with you our top stories!