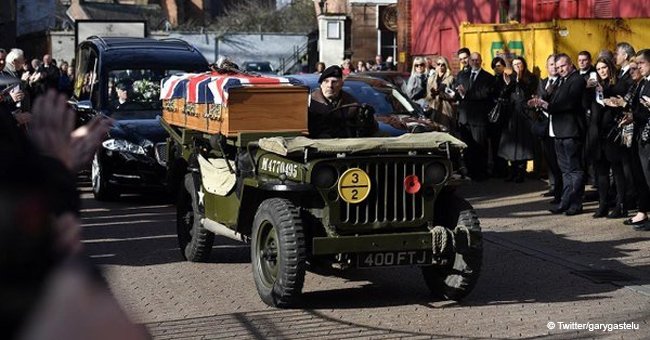 95-Year-Old Decorated Veteran's Last Ride Was to His Funeral in a WWII-Era Jeep
The casket carrying the remains of Major Jos Mark, Cumbria's most decorated war veteran, was driven on the back of a World War II-era jeep during his funeral.
It was a fitting salute for the 95-year-old veteran, who used to drive a similar vehicle as a member of the Royal Logistics Corps., as reported by Fox News.
"He was a gentleman and a gentle man and will be sadly missed by all who knew and met him."
The Normandy veteran died at Penrith Hospital last February 16, 2019, surrounded by his family.
Born on December 26, 1923, the former Gurkha officer devoted his latter years to visiting schools to share his experience from Normandy.
Major Mark, who was also an Honorary Life President of the Carlisle and Stanwix Branch of the British Legion, made it his mission to ensure that the next generations know about the sacrifices of their forefathers.
HIS CLAIM TO FAME
At age 16, Major Mark set up anti-aircraft guns in the London area at the outbreak of World War Two.
He will be forever remembered for helping set up the anti-aircraft gun emplacement at 10 Downing Street. He became a member of the Royal Logistics Corp as D-Day approached.
During the Normandy landings, he was part of the second wave of troops and one of the more than 3,000 soldiers of the brigade tasked with capturing Hill 112, southwest of Caen that overlooked Normandy.
Several thousand soldiers died during the battle for the hill.
As one of the survivors of the Normandy landings, Major Mark was deployed at Arnhem in September 1944. He then crossed the Dutch border to Nijmegen. When he entered Bergen Belsen, a German concentration camp, he rescued the woman who would later become his wife.
"Jos was a longstanding member of the Royal British Legion, who was respected by all who met him," said Tony Parrini, a former RAF office from Carlisle. "He was a gentleman and a gentle man and will be sadly missed by all who knew and met him."
Please fill in your e-mail so we can share with you our top stories!