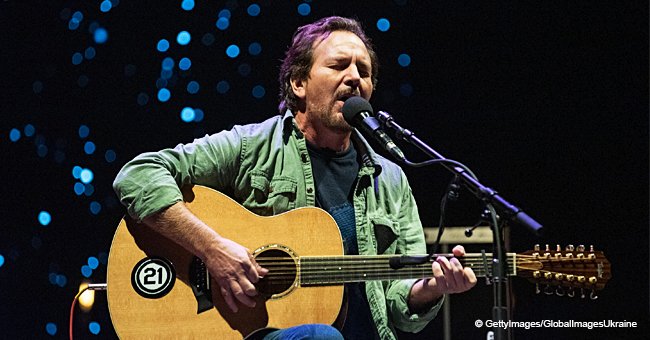 Eddie Vedder Sings a Song from 'A Star Is Born' and His Performance Is Pure Gold
Rock-and-Roll-Hall-of-Famer Eddie Vedder thrills fans as he sings the Bradley Cooper song, "Maybe It's Time", at the Innings Music Festival in Tempe, Arizona.
The hit 2018 movie remake of "A Star Is Born" was produced and directed by Bradley Cooper. He also played Jackson Maine, the successful but addictive musician in the film. For research, Bradley turned to his friend Eddie Vedder, of Pearl Jam fame, to give him details and inside information on the life of a true musician. Bradley shares,
"I went up to Seattle and spent four or five days with him, and I asked him 9,000 questions. He gave me minor, little things that only musicians know about: what to do, just aesthetically and the inner workings."
Bradley also recalled that during their meeting, Vedder thought that doing a remake of "A Star Is Born" was a big mistake.
It seems Vedder has changed his mind about the movie because he did a cover of the song "Maybe It's Time" and the song was a perfect fit for him and his singing style, plus the fans went wild for it.
Jason Isbell excitedly posted on his Twitter when he heard that Vedder did a cover of his song, saying he was honored it happened. A fan of Vedder himself, the songwriter shared,
"I was twelve when "Ten" came out and by god I learned how to play every song on it."
The movie was nominated for several awards this season, and many of the ones won were for the music and songs. Lady Gaga took home an Oscar for Best Original Song for "Shallow".
The highly charged performance that she and Bradley did at the Academy Awards show sparked rumors that their chemistry onstage had to be the same in real life. Gaga reassured the fans that everything they saw was intentional and rehearsed, saying,
"I'm an artist, and I guess we did a good job...fooled ya!"
Please fill in your e-mail so we can share with you our top stories!