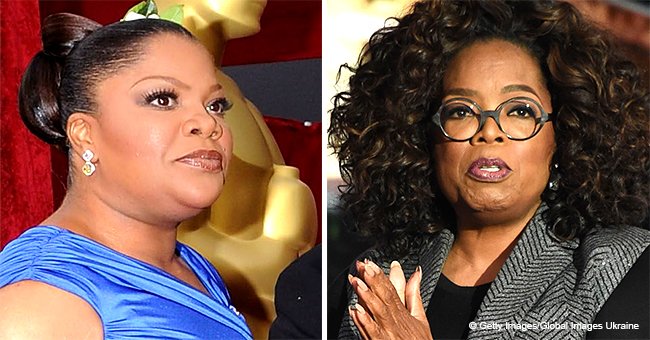 Who Does That?' Mo'Nique Slams Oprah for Interviewing Michael Jackson's Accusers

Mo'Nique blasts Oprah Winfrey following her controversial "After Neverland" interview. The comedian slammed Winfrey for devoting her attention to two men crying sexual abuse against Michael Jackson. "Was it right or was it for ratings," she asks.
Fanning the flames of her feud with Oprah Winfrey, actress Mo'Nique called out the media mogul for her recent interview with the two accusers of Michael Jackson.
Oprah shocked the world when she appeared in the television special, "After Neverland," and exclusively sat down with Wade Robson and James Safechuck, the two men in the explosive documentary "Leaving Neverland" who accused the late King of Pop of sexual abuse.
Aware of the dangerous waters she was treading on, Oprah predicted during the sit-down that she was going to receive backlash for it. "I'm gonna get it," she says, but defends her actions by saying the film is "bigger than any one person" and "transcends Michael Jackson."
Following news of her interview, Mo'Nique didn't take long to pick on the network owner during a recent episode of her web series "Open Relationship" with her husband Sidney Hicks. The comedian slammed Oprah for bringing up a long-gone issue and leaving no room for Jackson to defend himself.
"Here's a man that was found not guilty in the eyes of the law. And you wait for 10 years after this man was deceased, to now do an interview with people who said they lied."
Jackson was tried for the same crime he's being accused of today in 1993 and 2005. Both Robson and Safechuck who were young boys then testified on his behalf denying they were ever molested by the famous singer. The two men told Oprah during the interview that they defended him because didn't know then about the concept of sexual abuse or that they were victims of it. They were blinded by the attention Jackson was giving them and thought he could never do wrong.
Meanwhile, Mo'Nique further blasted Oprah for being a hypocrite after Jackson treated her kindly in the past.
"For me, it's sad and disheartening. That man welcomed you in his home and you spoke of how beautiful, and all the love this man has shown children all over the world."
She added,
"When we're calling someone a molester and they're no longer here…Michael Jackson is not here to defend himself, which is a major problem. [He was] found not guilty…then you come back and you allow these two men to get on your platform and tell this story, and that man cannot defend himself, who does that?"
"Was it right, or was it for ratings?" Mo'nique asks.
The award-winning actress isn't the only one who took offense at Oprah. Twitter was flooded with hate directed her way, accusing her of being one-sided and unfair to Jackson who used to be her friend. Mo'Nique during her show also received calls from listeners who echoed her sentiments about the interview.
This is not the first time the outspoken star had an issue with Oprah. In 2017, she accused the OWN founder of blackballing her after her Best Supporting Actress win in the Oscars for the film "Precious." She came after Oprah, Tyler Perry and Lee Daniels during her stand-up show and claimed they "whiteballed" her after she declined to promote "Precious" during the awards season because she felt underpaid. Tyler and Oprah were the producers of the film while Lee was the director.
Mo'Nique's rift with Oprah reportedly also stemmed from an interview the talk show host did of Mo'Nique's brother who had sexually assaulted her. She recalled refusing Oprah's offer for her to come on that show to speak about the abuse. She later felt betrayed by Oprah when she learned her parents were going to be part of the interview. Mo'Nique had previously confided in Oprah about not being in good terms with her mother and said that if she'd known she was appearing on the show, she would have stopped it.
Please fill in your e-mail so we can share with you our top stories!