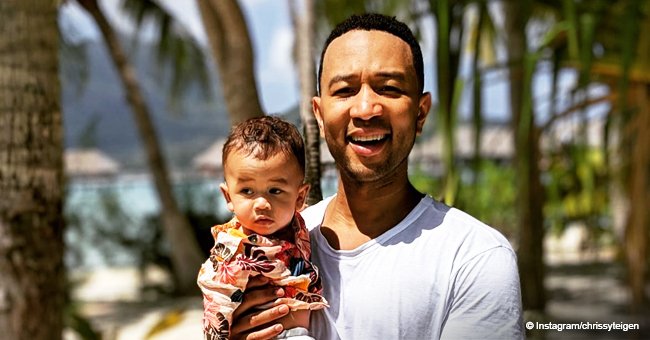 John Legend Shares Video of 9-Month-Old Miles Adorably Singing into a Toy Mic

His father is a vocal powerhouse, so it's not surprising that little Miles Legend already has a thing for the microphone. Proud dad John Legend showed off his son's skills recently in an adorable Instagram video.
The "All Of Me" singer is catching Miles young, even if it's with a toy mic and a rendition of "Wheels On The Bus."
The delightful video shows Miles lying face down on a patterned blanket in a white shirt and blue pants. In front of him is a toy microphone.
"Sing it, Miles!" John, 40, can be heard saying off-camera. "Wheels On The Bus" can also be heard playing in the background. Miles didn't need to be told twice to sing. The cute tot pulled on the mic, belting out his version of the popular kids' song.
Granted, much of Miles' "singing" was incoherent baby coo sounds and at some point, it seemed the tot was chewing on the musical instrument, but he's a baby, so he gets a pass.
MILES HAS FANS
His adorable attempt still earned positive reviews in the comment section.
"He is getting so big!!!! So adorable!!!! I know you guys are so proud!!!! He and Luna are just gorgeous!!!!" ~@so_donefakes
"Now, who didn't see that coming?!?! He's a natural!!" ~@traceybattersonlooney
"How adorable, he's going to need an agent, hurry up a sign him up" ~@dld1955

Screenshot of a user's comment on John Legend's video of Miles "singing" with his toy mic. | Photo: Instagram/John Legend
MOMMY BEHAVIOR
Chrissy Teigen, 33, also shared Miles' singing clip and couldn't help gushing over their son.
"John been on solo daddy duty while I visited Pittsburgh for a day of work!" she captioned the post. "I know my feed is ALL my kids now, and I don't know who I've become, but I can't stop myself. I need help."
Chrissy is right about her social media feed being dominated by her kids, but we don't think anyone's complaining. If anything, they make for relaxing and sometimes hilarious content after a hard day's work.
TWO LEGENDS AND RIBS
Only a few days ago, the "Lip Sync Battle" co-host shared with fans a sweet father-son bonding moment featuring Miles and John.
Both Legend men gnawed on ribs while watching the show "Family Feud." Miles, looking like he had not a care in the world, balanced on his father's lap with his eyes glued to the TV.
"Oh my gosh," Chrissy is heard exclaiming in the footage. "Miles are you eating a rib with daddy?"
"Eating a rib, watching the feud," Chrissy added while focusing the camera on John who chimed in: "Just another family night."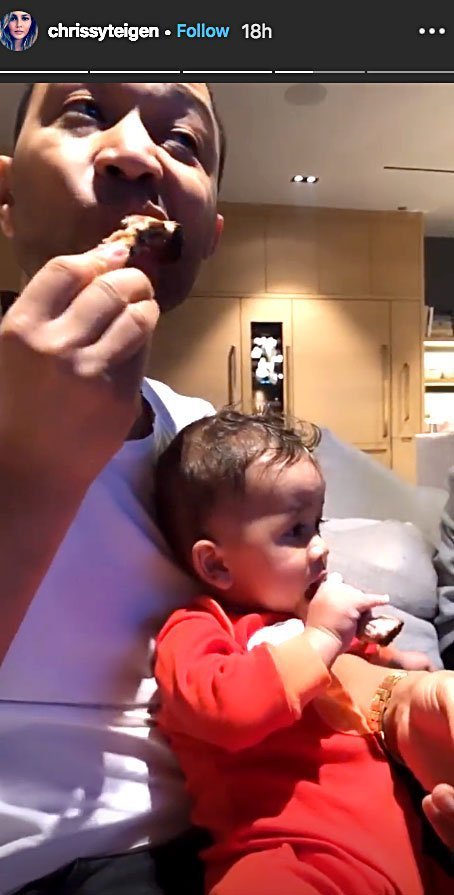 John Legend and son Miles eating ribs. | Photo: Instagram/Chrissy Teigen via US Magazine
LIKE SON, LIKE FATHER
Last month, the cookbook author left social media users in stitches after sharing a photo of her husband striking a similar pose as their son. She earlier posted an image of Miles sitting next to a fact-board in celebration of turning nine months. Among other things, the board revealed that Miles loves his two-year-old sister Luna, has two teeth and loves "toys with music noises."
Not long after, Chrissy followed up her post with the one where John recreated Miles' photo, complete with his board that says he's 482 months old, loves his "family," and does not like "beets" and "bad grammar."
"Wow they grow up so fast," Chrissy joked in the caption.
Please fill in your e-mail so we can share with you our top stories!