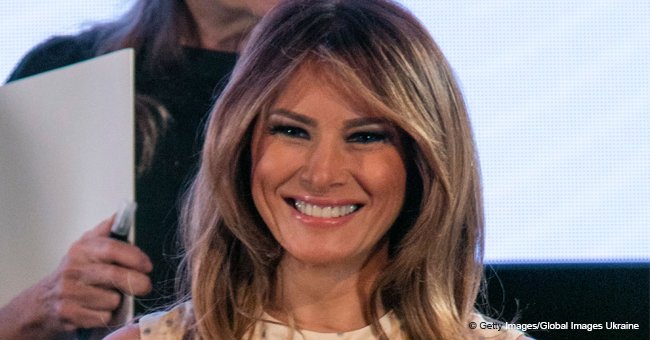 Melania Shrugs after Trump Leaves Her behind outside the White House, and the Video Is Awkward

Donald Trump treated his wife in the worst manner on International Women's Day and the moment went viral.
On Friday, President Donald Trump and his wife Melania Trump greeted Czech Republic Prime Minister Andrej Babiš and his wife Monika Babišová at the front of the White House.
It was the foreign couple's first visit to the presidential residence. Yet it wasn't the first time Melania received bizarre treatment from her own husband.
This time, things got awkward as Melania and Monika allowed their husbands to lead the way for the occasion. As the Czech nationals exited the car, the prime minister went to Trump.
Monika stood by Melania and they watched as Andrej and Donald turned their backs on them and walked inside. Both men appeared to reject their wives as they headed inside without a word.
Monika and Melania proceeded to shrug at each other and then the two women followed the men inside. Of course, the comment section was littered with backlash about the comical moment.
Some people pointed out how ironic it was that it happened on International Women's Day, a day to remember (and not forget) the ladies.
Others suggested that the women expected to take a picture before going inside, hence the uncomfortable lingering and the awkward shrug.
Meanwhile, a recent appearance of the first lady furthered the conspiracy that Donald is using a double for his wife. Last weekend #fakemelania was trending on Twitter following the first lady's exit from a plane.
The memes came rolling in after the incident. Although the conspiracy has been debunked before, some people said they were falling deeper and deeper into the wild belief.
Donald's treatment of Melania, however, is consistent. Back in October 2018, the first lady was left to fend for herself as the president forgot to give her shelter from the rain with his umbrella.
The two were about to head to ravaged Florida and were taking a walk to the waiting helicopter for the first time to get a firsthand look at the damage after Hurricane Michael hit on October 10. Melania wore a wide smile and held Donald's hand.
The president returned both actions but forgot one thing: to protect his wife from the elements. She stood there for a split second before her husband awkwardly allowed her to walk ahead.
He then side-stepped towards the press. This left Melania under the lightly pouring rain. Twitter users immediately called the POTUS out on the obvious lack of chivalry he showed to no other than his wife.
When he returned to Melania, it still didn't occur to Donald to shift the large umbrella so that his wife would be covered. They walked awkwardly towards the Marine One helicopter.
Please fill in your e-mail so we can share with you our top stories!