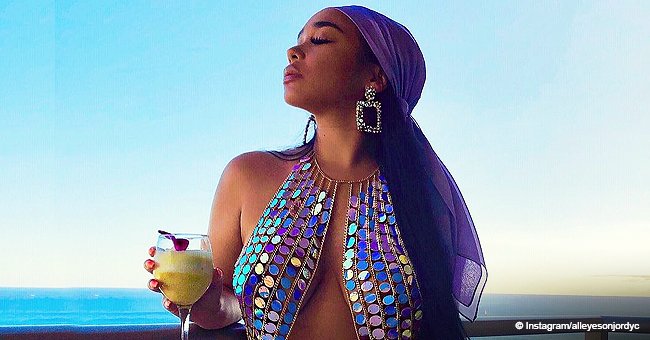 Tristan Thompson's 1st Baby Mama Looks Unbothered, Flaunting Perfect Body in Pic Amid His Scandal
Her baby daddy is at the center of a media firestorm following reports that he cheated on his second baby mama Khloe Kardashian, but Jordan Craig has refused to be bothered by the drama and is instead focusing on "peace."
Despite the popular opinion that Thompson, 27, cheated on Craig when he moved on to Kardashian, 34, Craig has never lashed out or made any subtle comments regarding the situation. Now that things seem to have unraveled between Kardashian and Thompson, the Instagram model is sticking with the same plan.
In a recent picture on her Instagram page, Craig, 27, modeled an exquisite swimsuit featuring a glittering upper bodice and complemented it with a purple scarf. The mom-of-one also sported large earrings and held a drink in one hand as she posed on a balcony and looked out to the sun.
Just in case anyone did not get the message from her telling posture, Craig added in the caption:
"Clarity… Peace… Serenity"
Craig, who prefers to keep a low profile, was once again thrust into the spotlight after Thompson allegedly cheated on reality star Kardashian.
Social media users have trooped to Instagram to praise Craig for moving on
Craig's son with the basketball player, Prince Oliver, turned two last December while Kardashian's daughter, True, is 11 months old.
Last month, Thompson was accused of cheating on Kardashian, but it was who he committed the act with that was the real news. Jordyn Woods, BFF with Kardashian's sister Kylie Jenner, was allegedly spotted kissing Thompson during a house party at his LA home. The report claimed both Woods and the NBA star couldn't keep their hands off each other.
A few days after the news broke, Woods, 21, was spotted at a promotional event where she thanked fans for their support during "everything that's going on."
She would later address the topic in an episode of Jada Pinkett-Smith's Facebook Watch show, "Red Table Talk," confirming that she was at Thompson's house party and insisting it was the NBA player who kissed her when she was drunk and leaving in the morning.
The Cleveland Cavaliers Center has quite the reputation. He was first accused of cheating on Kardashian last April a few days before the birth of their daughter, and previously, he started dating the reality star/entrepreneur while Craig was still pregnant.
With the latest developments, social media users have trooped to Instagram to praise Craig for moving on, saying it was a good thing Thompson left her life.
"When they thought they took your man but really they took your problems," wrote one user in the comments section.
"Girllll you are beautiful & must I say you definitely dodged that bullet. Praise God," echoed another.
Please fill in your e-mail so we can share with you our top stories!