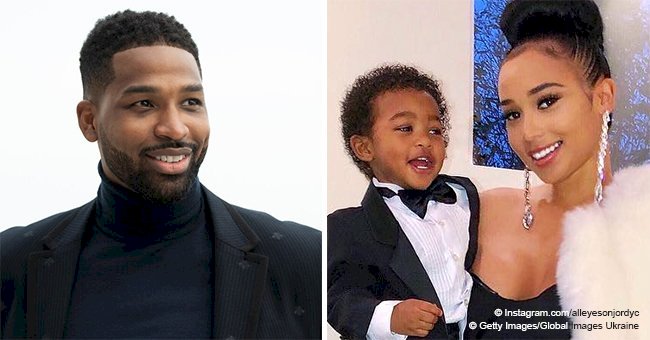 Tristan Thompson's ex Jordan Craig celebrates son's 2nd birthday with photos of him in black suit

Tristan Thompson's ex Jordan Craig is not letting anyone forget about his son. She posted pics of him in a black suit to celebrate his 2nd birthday.
Before Tristan Thompson started dating Khloé, he was in a relationship with Jordan Craig. She is the mother of his first child, Prince Oliver.
Prince is only 2 years old. Until recently, he was kept out of the limelight and his parents ensured he did not appear online.
Tristan had posted no pics of his while Jordan only posted pics that hid the tot's face for the first few months of his life. However, the proud mom has taken to Instagram to show off just how handsome her adorable son is.
In a stunning pic of mum and baby, Jordan wore a long black gown and white faux fur coat. Little Prince wore a gorgeous black suit and white shirt with formal shoes. They looked absolutely stunning together.
Jordan captioned the post, "Can't believe I officially "have a 2 year old!" Such a bittersweet day...but I'm incredibly proud of the little gentlemen you are becoming! Love You Papa! "
Fans were blown away by the pic. Many took to the comments section to complement the mummy-son duo and wish Prince a happy birthday.
imperfect_butterfly_ commented, "Prince have a wonderful birthday you really are a TRUE Prince. Your mom @alleyesonjordyc is a real Queen. Birthday blessing young man."
Tristan also took to Instagram to wish his son a happy birthday. However, fans still questioned why he rarely posts about his son and point out how he wronged Prince's mother.
"@realtristan13 , How do you let Khole keep you away from ur son?" asked one fan
The angry fans are referring to the way Tristan and Jordan had broken up. Tristan had left a pregnant Jordan to pursue a relationship with Khloe Kardashian.
Another fan wrote, "she better off ....if a man wants to leave u for someone else bye. his loss karma a mofo."
Many people blamed "Keeping Up With the Kardashians" for leading to the break down of Tristan's and Jordan's relationship. Khloe and Tristan publically flaunted their relationship while Jordan was still heavily pregnant.
After leaving Jordan, Tristan revealed that he was expecting another child with Khloe Kardashian. During Khloe's pregnancy, Tristan was caught cheating on her.
One fan tweeted, "Let's not forget-Tristan Thompson left his pregnant gf to be with Khole Kardashian. He hasn't publicly acknowledged his first born however he poses for a pregnancy announcement with Khloe and does appearances on KUWTK???"
Insiders claimed that "Jordan feels totally neglected by Tristan ever since Khloe had her baby. With the NBA playoffs happening and Tristan being a new father again he has had zero time for their toddler, Prince Oliver."
However, Jordan has kept her Instagram classy. She has made no mention of Khloe nor Tristan's cheating scandal.
Instead, she seems to be solely focused on enjoying her son. She is spending her time making memories and pouring energy into the little boy who gave her life a purpose.
One Instagramer commented, "But her baby is cute. She should (but never has as far as I know) throw shade @khloekardashian. That girl was running around flaunting the man all over social media while Jordy stayed quietly by herself watching her belly grow. Happy mothers day. This year, karma is on ur side & is wiping out all those who caused u pain. Keep holding ur head high & God bless two u & ur son…"
Please fill in your e-mail so we can share with you our top stories!