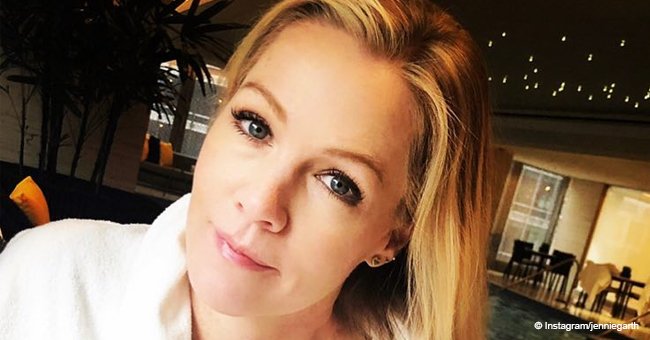 Jennie Garth Claps Back at Haters Who Shamed Her for Not Paying Tribute to the Late Luke Perry
Jennie Garth, popularly known for her role as "Kelly Taylor" in "Beverly Hills 90210" TV show has been criticized by fans for not writing a tribute to Luke Perry, the legend who played a role as her love interest in the show.
On Friday, Jennie posted on Instagram for the first time since Perry's death. The post was a picture of the actress with Luca, Lola, and Fiona, the three daughters from her marriage with ex-husband, Peter Facinellii.
Due to the difference of her post from a tribute that many fans had looked forward to from the 46-year-old, many of them went on to criticize the actress. In response to this, Jennie explained that celebrating anything at all was hard but she celebrated her kids because it was a day to celebrate all women.
She added that:
"anyone who knew him knows he didn't give a f*#k about social media."
Luke's lack of active participation on social media despite being loved by so many shows how little he cared about social media.
However, in spite of his indifference to social media and being the only one who did not sign up for the Beverly Hills 90210 reboot, Luke maintained a good relationship with his former co-stars.
In a recent conversation with Garth, Perry sent his former co-star a picture of his daughter, Sophie, while she was away on a volunteer trip to Malawi. Luke was known for having a big heart for people, and an even bigger heart for his children, Jack, 21 and Sophie, 18. Apart from his family, testimonies about the 52-year-old actor tell how kind he was.
Jennie, in an exclusive statement to People, expressed her deep hurt about her formal co-star, saying:
"My heart is broken. He meant so much to so many. Such a very special person. I share my deep sadness with his family and all who loved him. Such a terrible loss."
Fans, co-workers, and friends have been giving their condolences to the Perrys. The late actor's family have announced that in lieu of flowers, people should make donations to fight Colorectal Cancer.
With or without tributes, it is certain that Luke Perry will linger in the hearts of many for his countless deeds of kindness
Please fill in your e-mail so we can share with you our top stories!